In 2018, SHSU Online relaunched Continuing Education. Reimagined as a provider of fully online courses and certificates, the department reopened with a new mission. Special emphasis was placed on increasing access via fully online options.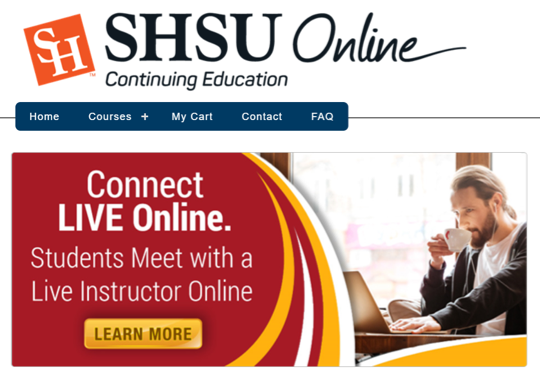 Having an online delivery method means that continuing education students can advance their professional development efforts without having to move or interrupt their residential locations or careers.
Currently, certificate programs are the fastest-growing type of college credential awarded (CCE, 2017). They are a key component to workforce development and to advancing marketable skills. In 2016, certificate programs made up 22 percent of all college credentialing and awards (CCE, 2017). Employees who finished a certificate program earn an average of 20 percent more than employees who only completed high school. A certificate is now the highest form of education held by 1 in 10 American workers.
With its new mission, SHSU's Continuing Education Department provides many new benefits, including:
Students earning certificates improve their marketability in the workforce

Students also gain valuable knowledge and credentials in a short period of time
CE courses are available to all SHSU students via a link in Blackboard, and there are currently 348 courses from a wide variety of disciplines.
---
References:
CCE. (2017). Why certificate programs are exploding in popularity.