With a vision of setting the global standard in online and digital learning, the Online Learning Consortium (OLC) is a collaborative community of higher education leaders and innovators, dedicated to advancing quality and leadership in digital education. Their mission is to foster a networked community around quality online and digital learning while driving innovation.
Great news! Now, all faculty and staff at SHSU are part of this collaborative community. SHSU Online is pleased to sponsor the annual, institutional license for all faculty and staff at Sam Houston State University.
Among the benefits are:
Free On-Demand Webinars
Discounted pricing ($100 savings) on all OLC workshops
Member pricing on OLC Conferences and events
Member pricing on OLC Teaching Certificate Programs
Member pricing on OLC Mastery Series Programs
Publications Discounts

Networking opportunities: OLC events, webinars, and social groups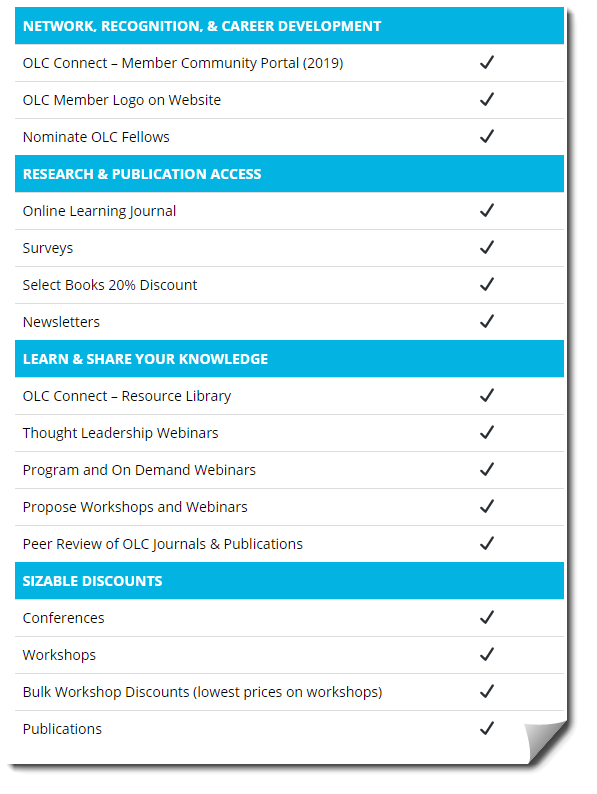 To enjoy these privileges, be sure that you have set up your account and affiliated it with Sam Houston State University.
ACCOUNT SET UP
You must use your SHSU email address to access benefits.
Please enter your information in the spaces provided.
The system will now recognize you as a member. Bookmark this Member Resources page, a convenient place for you to gain access to all the benefits provided for members, and to access to the OLC Journal, Online Learning.
If you're interested in connecting with other professionals in your field, you may find the resources below helpful when completing the Personal Information page: