As part of a joint effort, an online COVID-19 training module was developed by the SHSU COVID workgroup for students to complete upon returning to campus for the Spring 2021 term.
The module, designed to convey important health and pandemic related safety issues to all SHSU students, includes guidelines for social gatherings, COVID-19 testing, and ways to reduce the spread of the coronavirus. This information is transmitted to students using two different approaches in Blackboard, with multiple groups within SHSU Online helping develop, deploy, and support the content.
Per Associate Vice Provost of Faculty and Student Success Dr. Brian Loft, "In the fall semester, our students, faculty and staff showed tremendous diligence in adhering to social distancing guidelines and wearing facial coverings. We successfully completed the semester with very few unexpected setbacks, and we hope to see similar success in the spring. In order to ensure all students are fully aware of COVID-related expectations from the university, an instructional module has been created by the COVID workgroup and the Student Health Center."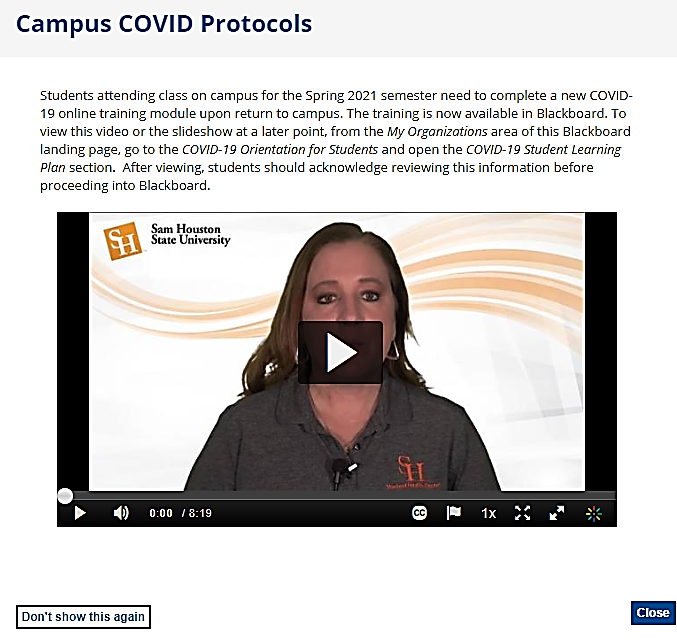 To ensure most students viewed the information prepared, a new notification feature of the EesySoft notification tool in Blackboard was utilized. The feature requires the targeted audience to play through to the end of a video before they are able to acknowledge having watched the video and then activate the button to be able to close the message and proceed into Blackboard. This message was activated the week the Spring 2021 term started to ensure students were aware as early as possible in the term.
The video, produced by SHSU Online's Creative Service team, as well as expanded resources were also placed in an existing COVID-19 Orientation for Students in a Blackboard organization by the SHSU Online instructional design team for later review starting a week before the Spring 2021 term began. That organization was developed initially to facilitate the move to emergency remote learning, with related notification from the Registrar, links to the various home use software programs for students to use on personal computers, computer lab operating hours, and how-to guides on the core tools used in the transition to remote instruction. This organization has been maintained as a central resource point within Blackboard for pandemic related information, and was selected as the location for this health information to continue to keep all pandemic related information in one place.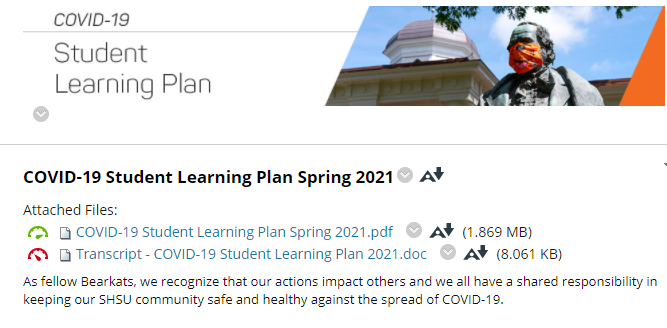 To view this video or the associated materials, log into Blackboard, from the My Organizations area, go to the COVID-19 Orientation for Students (or use the graphic for Student Resources: COVID-19 Organization) and open the COVID-19 Student Learning Plan section.