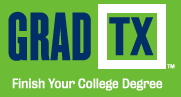 Sam Houston State University was recently selected as one of four institutions across the State of Texas to become a member in the GradTX program. The GradTX program is designed to connect college "stop outs" with universities that offer specialized programs through online programs and online course offerings. Partner universities, such as SHSU, commit to provide tailored, personal assistance and financial aid for returning students.
The GradTX program was recently revived as a measure to support the goals of the 60X30TX Plan. About a decade ago, the original GradTX program was launched in an effort to provide low cost degree options. In its most recent iteration, the GradTX program has been reassembled to support institutions, such as SHSU, which have mobilized several efforts and strategies operationalizing the 60X30TX Plan.
In the Fall 2017 semester, SHSU Online established the Office of 60X30 Online Initiatives, the first of its kind in the State of Texas. The primary function of the new unit is to perform ongoing recruitment of new online students. Students who are considered adult learners, stop-outs, and degree completers between the ages of 25-35 are the primary service audience, although any persons seeking credentialing via SHSU's online programs will be supported through the inquiry, application, accepted, and matriculated process.
Dr. Raymund A. Paredes, Texas Commissioner of Higher Education, is actively urging higher education institutions in Texas to implement various 60x30TX strategies, such as the ones in effect at SHSU. One of these includes providing high-quality, online education programs for educationally, under-served adults. SHSU, with numerous, flexible online degree options, is poised to extend the Bearkat footprint to Texans returning to school.
As part of membership in the GradTX program, SHSU Online will receive a grant of $115,000 to provide scholarships for adult students seeking to earn a bachelor's degree. The possibility of providing text-book vouchers has also been proposed by the Coordinating Board.