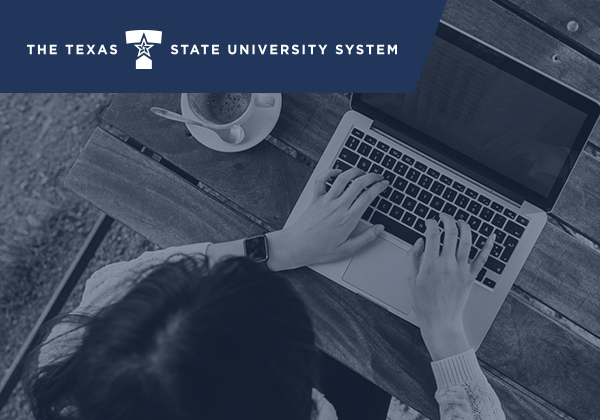 When it comes to online education, the Texas State University System (TSUS) is seizing the initiative.
This past fall, members of SHSU Online's Multi-Media Services team assisted Dr. Bill Angrove, SHSU's associate vice president for distance learning and TSUS's chief online education officer, and other TSUS officials, in creating and publishing the System's first Online Education Annual Report. The report presents relevant research backing online instructional methods, shares the state of online education in the System, and establishes 2020 goals for the System and its member institutions.
Dr. Angrove presented the report, along with an introductory video describing its approach and its contents (also produced by SHSU Online), at the fall meeting of the Texas State University Board of Regents on November 16-17, 2017, on the SHSU campus.
As administrators work toward aiding underserved students, the Texas Higher Education Coordinating Board (THECB)'s 60x30TX Plan has become their focus for igniting change and helping students achieve their educational objectives. This plan commits the state to ensuring that by 2030, 60 percent of all Texans will hold a post-secondary degree or other educational credential.
The TSUS Online Education Report puts forth the online modality as a vehicle for arriving at the 60x30TX goals while strengthening the System and meeting the needs of the contemporary student. Recent longitudinal research points to the online modality as an increasingly common method of delivering education, and the research also shows that cost, responsive support, and time commitment play a large role in how students choose and determine the quality of their education.

Texas is first in the nation in terms of students enrolled in courses offered online, and within the state, TSUS is leading online education into the future. Institutions within the System are continuing to see the value in offering courses and degrees online, and are planning to increase online education opportunities as a way to support the growing interest among Texas students and families. TSUS four-year institutions offer a variety of quality undergraduate and graduate degree programs online, several of which have been regionally and nationally recognized. TSUS two-year institutions have forged a pipeline for seamless transfer pathways to degrees earned online at four-year TSUS institutions.
The 2020 goals set forth in the report are a springboard towards building capacity within the System to meet the needs of our students, and double as a waypoint on the path to achieving 60x30TX goals. Through increasing the catalog of course work offered online, the System will increase the total number of degree programs offered online, which provides more options to adult learners. Building capacity to reach the underserved adult learner market through education offered online is key in unlocking the futures for many Texans aged 25-34.