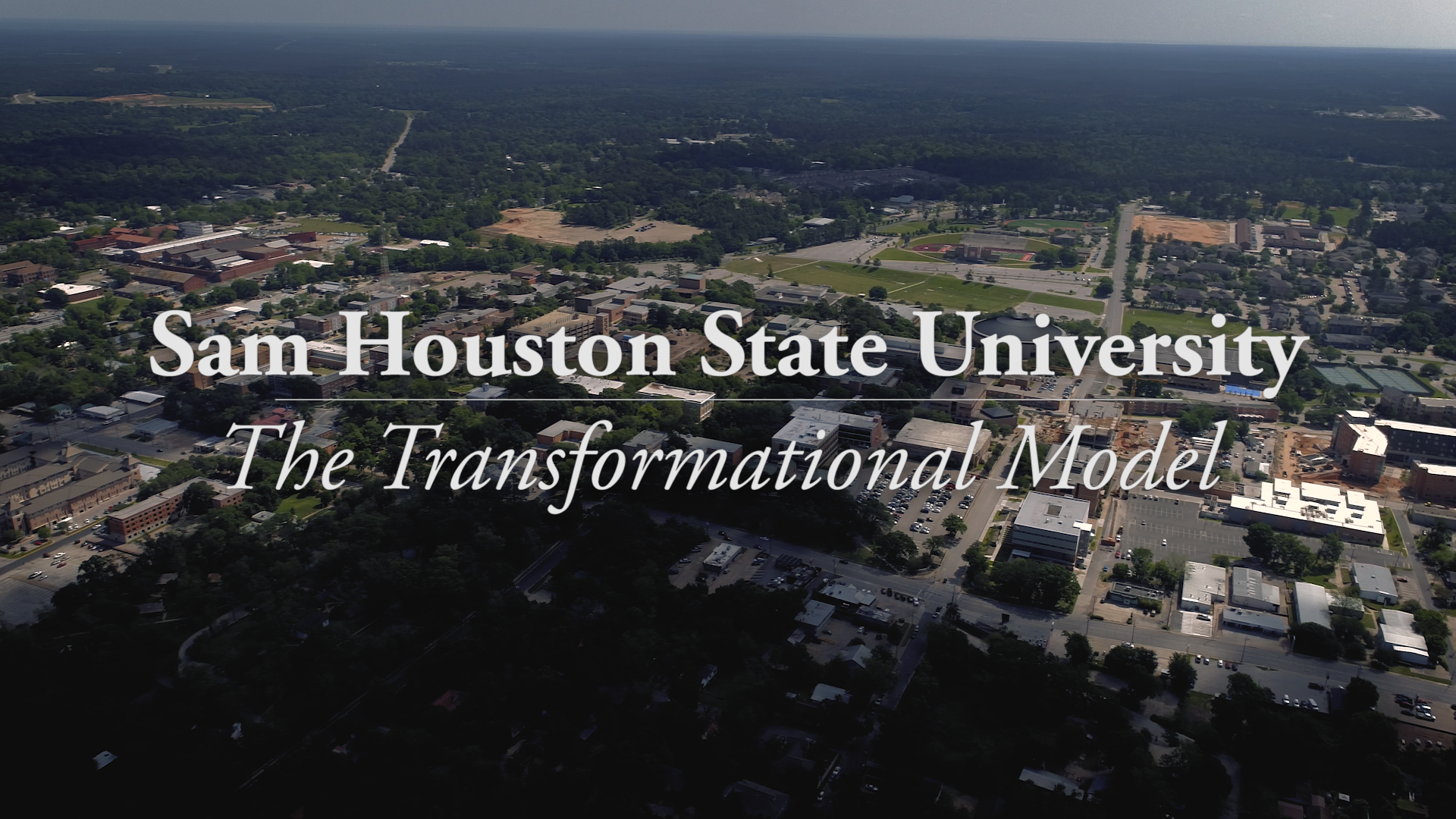 The Multi-Media Services department at SHSU Online recently produced an informational video that introduces and outlines the "Transformational Model" - a set of three interlocking initiatives that work together toward making education accessible and achievable for traditionally underserved students.
The Transformational Model video features information about the initiatives, including Re-Imagining the First Year (RFY), the American Association of State Colleges and Universities (AASCU)'s Frontier Set, and the Texas Higher Education Coordinating Board (THECB)'s 60x30TX Plan. The video can be viewed here.
Here are some details about each of the three initiatives.
Re-Imagining the First Year (RFY)
The RFY project aims at ensuring success for all students, particularly those who have historically been underserved by higher education: low income, first generation, and students of color. With support from the Bill & Melinda Gates Foundation and Strada Education Network (formerly, USA Funds), AASCU has created a coalition of 44 member institutions that are working together for three calendar years (2016-2018) to develop comprehensive, institutional transformation that redesigns the first year of college and creates sustainable change for student success. The SHSU Online video features comments about the RFY project from George L. Mehaffy, Vice President for Academic Leadership and Change at the AASCU.
The Frontier Set
The Frontier Set is a national collaborative of 29 colleges and universities and two state systems of higher education. Established in 2017 and supported by funding from the Bill & Melinda Gates Foundation, its purpose is to identify, understand and share what works to accelerate student success, especially for low-income and first generation students, students of color, and working adults.
The Frontier Set is a diverse group of six high performing, high potential postsecondary institutions that have been identified as leaders in transformational change for student success. They are:
College of Staten Island (N.Y.)
New Jersey City University
Northern Arizona University
Sam Houston State University (Texas)
University of North Carolina-Greensboro
University of Texas Rio Grande Valley
The SHSU Online video includes information about the Frontier Set from George Mehaffy, and also from Alex Richardson of the Gates Foundation.
THECB 60X30 TX Plan
This plan incorporates four goals that are essential to the future prosperity of Texas:
Overarching Goal: At least 60 percent of Texans ages 25-34 will have a certificate or degree by 2030.
■ Supports the economic future of the state
Completion: At least 550,000 students in 2030 will complete a certificate, associate, bachelor's, or master's from an institution of higher education in Texas.
■ Requires large increases among targeted groups
Marketable Skills: All graduates from Texas public institutions of higher education will have completed programs with identified marketable skills.
■ Emphasizes the value of higher education in the workforce
Student Debt: Undergraduate student loan debt will not exceed 60 percent of first-year wages for graduates of Texas public institutions.
■ Helps students graduate with manageable debt.
---
For further details about the three initiatives, visit the following web sites:
Re-Imagining the First Year (RFY): http://www.aascu.org/RFY/
The Frontier Set: http://www.aascu.org/AcademicAffairs/StudentSuccess/FrontierSet/
60x30 TX: http://www.60x30tx.com/