Looking for an excuse to make the jump to Ultra Course View in Blackboard? Now may be the time to do it. Anthology's relationship with Microsoft is empowering educators in new and exciting ways. Instructors can easily build course structure, assessments, rubrics, and more with the new AI Design Assistant, developed in partnership with Microsoft and exclusively available in Blackboard Learn Ultra.
The AI Design Assistant, developed in partnership with Microsoft, makes Blackboard Learn the first major LMS to extend generative AI capabilities to instructors to inspire course creation, tests, and rubrics.
AI Design Assistant features include:
Course Banner Suggestions from Unsplash (Video)
The course banner image provides an important sense of identity for the course. Blackboard is expanding the image options for the course banner by introducing Stock Images from Unsplash. Instructors can enter keywords to search for high-quality, royalty-free images. The Unsplash course banner suggestions draw directly from your course title or by searchable keywords.

Auto-Generate Learning Modules for Course Structure Suggestions (Video)
If you need help designing your course and don't know where to start, the AI Design Assistant can guide you through building the course's structure. The AI Design Assistant draws insights from your course's title and description to generate learning modules. Learning modules can support a course objective, concept, or theme. Learning modules help you organize your content and guide how your students navigate through a topic.

Learning Module Images (Suggestions from Unsplash and Generate) (Video)
Learning modules serve as a strategic tool for structuring and curating course content. Elevating both the visual allure of the learning modules and the ease of content discernment is important. To help, Blackboard has two more options for integrating images into learning modules.

Search stock images from Unsplash. With this option, instructors can enter keywords to search for and select high-quality, royalty-free images. When enabled, the AI Design Assistant suggests keywords.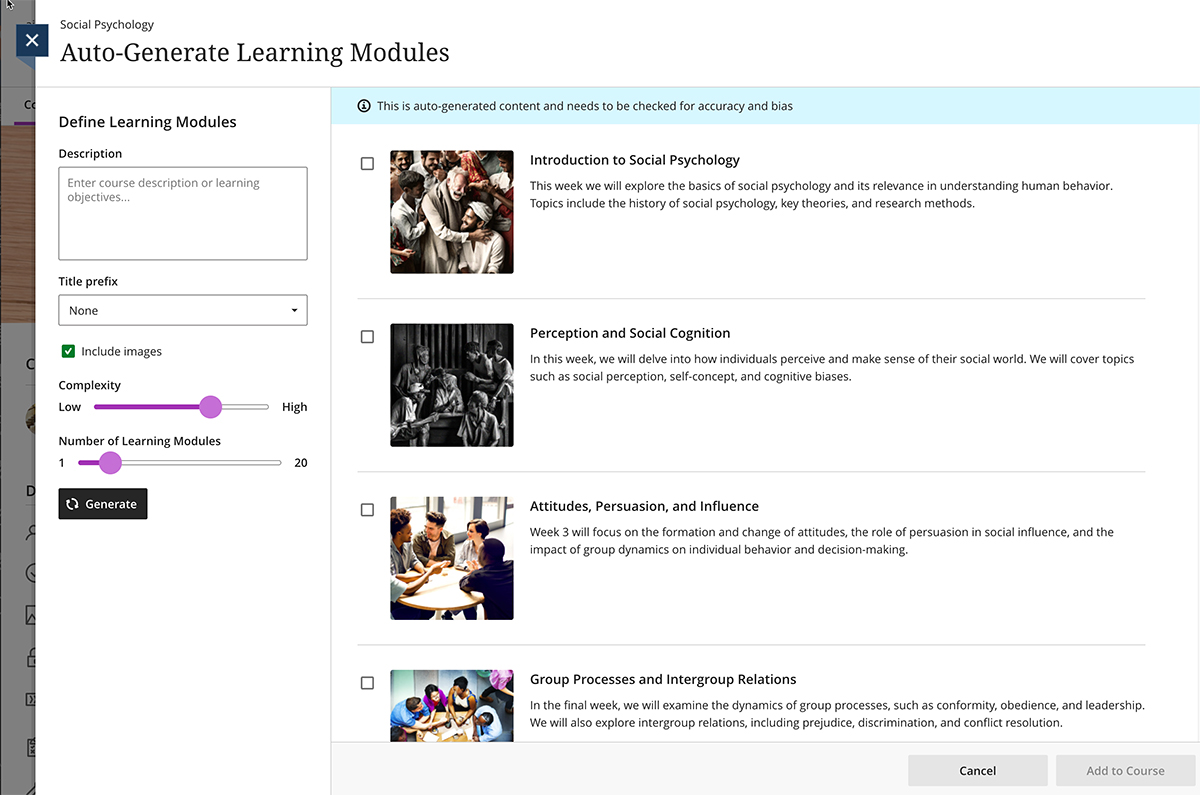 The Instructor Is In Control
These features are only instructor-facing, students do not have access to the AI Design Assistant. Blackboard faculty are always in control over what does and what does not go into Blackboard courses. Each of these features' suggestions is powered by the title of the course, course content, or information the instructor enters. The more information provided to the AI Design Assistant, the better the suggestions will be. Prior to placing any content in the course, the instructor will need to review and accept each item. Once in the course, the content can be edited or deleted according to the specifications of the instructor.
Ethics in Action: A Trustworthy AI Approach
As Anthology looks to explore the benefits AI has to offer, they are prioritizing lawful, ethical, and responsible use. They have established a set of Trustworthy AI principles, which they commit to:
Humans in control,

Fairness,

Privacy,
For more information about the Trustworthy AI Principles visit Anthology's Trust Center.
AI Design Assistant How-to's
As always, the Instructional Development and Support team at SHSU Online has multiple opportunities to learn how to use these new features.
The Instructor Support Org in Blackboard has a module dedicated to helping you learn how to use the tool called the AI Design Assistant for Ultra
Register for one of our AI Design Assistant webinars
Bookmark this YouTube playlist of How-to Videos for each feature
If you have any questions, please feel free to reach out to the Instructional Development and Support Team at SHSU Online.