As of Fall 2021, the Texas State University System (TSUS) had over 24,000 students pursuing their programs exclusively online—enough to constitute a full-size traditional university, according to the Carnegie Classification of colleges and universities.
TSUS, as a leader in the online education space, is making meaningful strides, not only in providing access to online education, but also in promoting the cross-institutional collaboration necessary to support the academic achievement of online students.
Over the past few years, the System's Chief Online Education Officer, Dr. William Angrove, and other System leaders have worked with responsible officials at TSUS member institutions to expand institutional capacity to scale quality online education. With recent, growing interest in online education, fueled by the economic downturn and post-pandemic concerns for health and wellbeing, it seems only fitting to continue to expand institutional capacity through the TSUS Shared Services Project.
The initiative, which launched in Spring 2019, enables the facilitation of online education at scale for TSUS institutions and plays a key role in maintaining operations in case of a disruptive disaster, like Hurricane Harvey and COVID-19. Opt-in is optional for TSUS institutions, though there has been much interest in a centralized-decentralized, cross-institutional model for supporting online education.
As part of this collaboration, member institutions benefit from online education services aimed at supporting faculty and students in the online space-- from faculty certification in online teaching, to course building, to a 24/7 Technical Support Desk. In addition, TSUS institutions that partake of this initiative gain access to the TSUS Blackboard Instance, which boasts a complete suite of licenses native to the LMS.
Lamar Institute of Technology became the first TSUS institution to join with Sam Houston State University in the Shared Services project. Since then, additional institutions have combined efforts in the support of online learning.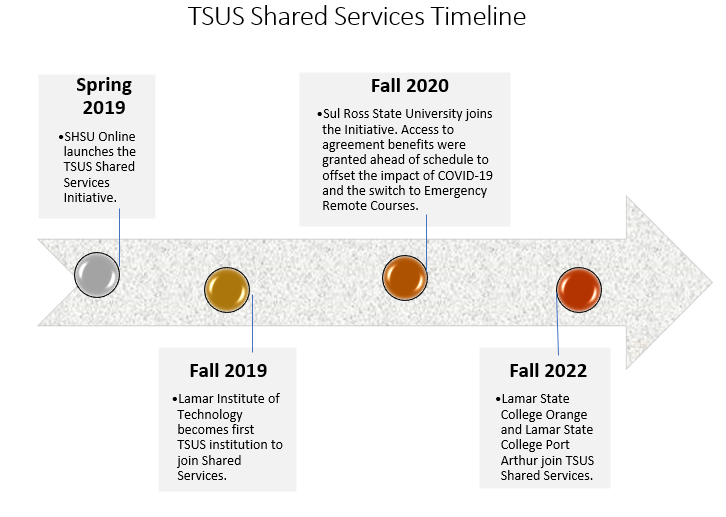 As online education continues to evolve and mature, building a network of support is key. TSUS institutions are committed to remaining proactive players in the ever-evolving state of online education. Working together, fellow TSUS institutions can serve Texans' widely varying higher education needs and facilitate pathways to degree completion.