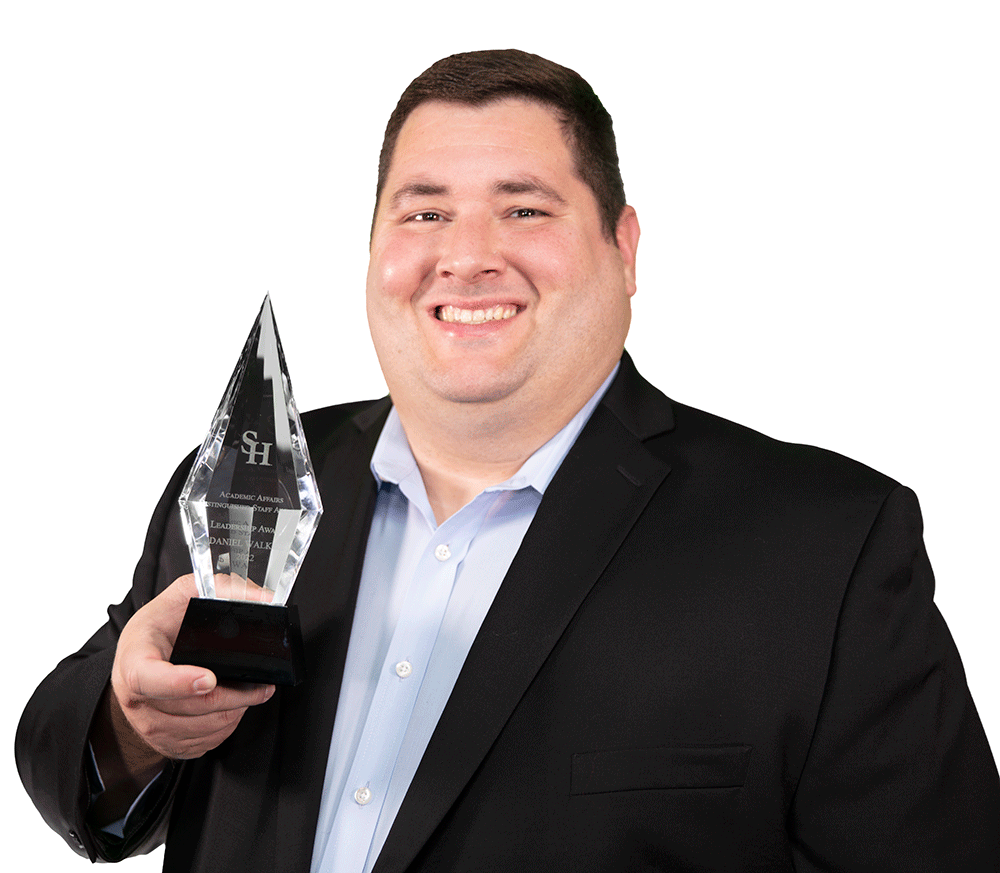 Sam Houston State University's Office of the Provost has introduced the Academic Affairs Distinguished Staff Awards in an effort to show appreciation for the service of Academic Affairs staff members. SHSU Online Newsletter is proud to report that Daniel Walker, director of Online Technology Support Operations for SHSU Online, received the Leadership Award.
This award showcases a staff member who displays impeccable leadership qualities, including exceptional communication, problem-solving, integrity and a strong desire to help others succeed.
"It was truly an honor to receive this award. We work with so many amazing people in Academic Affairs and to be selected amongst them is extremely flattering," Walker says. "I love having a position that can serve the needs of our faculty and students and my goal is to remove as many technical roadblocks as I can to ensure that everyone's academic journey is successful."
Walker has led SHSU Online's 24/7 Support Desk since its creation in 2011. As he tells SHSU Online Newsletter, "With the vision of Dr. William Angrove and Dr. Ruth Chisum, I have expanded and grown the Online Support Desk to fit the academic needs of our community." As Support Desk director, he works with faculty and students every day to provide technical and troubleshooting support in online courses, as well as courses leveraging a hybrid delivery modality, and even face-to-face courses that utilize digital tools, to enhance the learning experience.
Walker's role has seen expansion in recent years due to integration with other members of the Texas State University System. The TSUS Shared Services Initiative has made the 24/7 Support Desk the primary team supporting and troubleshooting Blackboard technology questions from faculty, staff and students at Sam Houston State University, Lamar Institute of Technology, Sul Ross State University, Lamar State College Orange, and Lamar State College Port Arthur.
As Walker observes, "The 24/7 Online Support Desk has some of the most talented and dedicated staff I have had the pleasure of working with at Sam Houston State University. They work long hours, nights and even weekends to ensure that all technology issues with Blackboard are resolved the first time someone has an issue."