In Summer 2022, Blackboard is going to get a new look. Blackboard Ultra is the latest iteration of the learning management system (LMS). In addition to a different look, the upgrade will also introduce a fully mobile-compatible, cloud-based version, which will improve accessibility for students and instructors using mobile devices.
What changes will I see?
The main change will be an updated landing page, which is the page you see when you first log into Blackboard.
The new landing page boasts a streamlined design (shown below), introduces a graphical course list, and provides access to an Activity Stream that displays important course information, including recently posted grades, new assignments, upcoming tests, and other relevant notifications.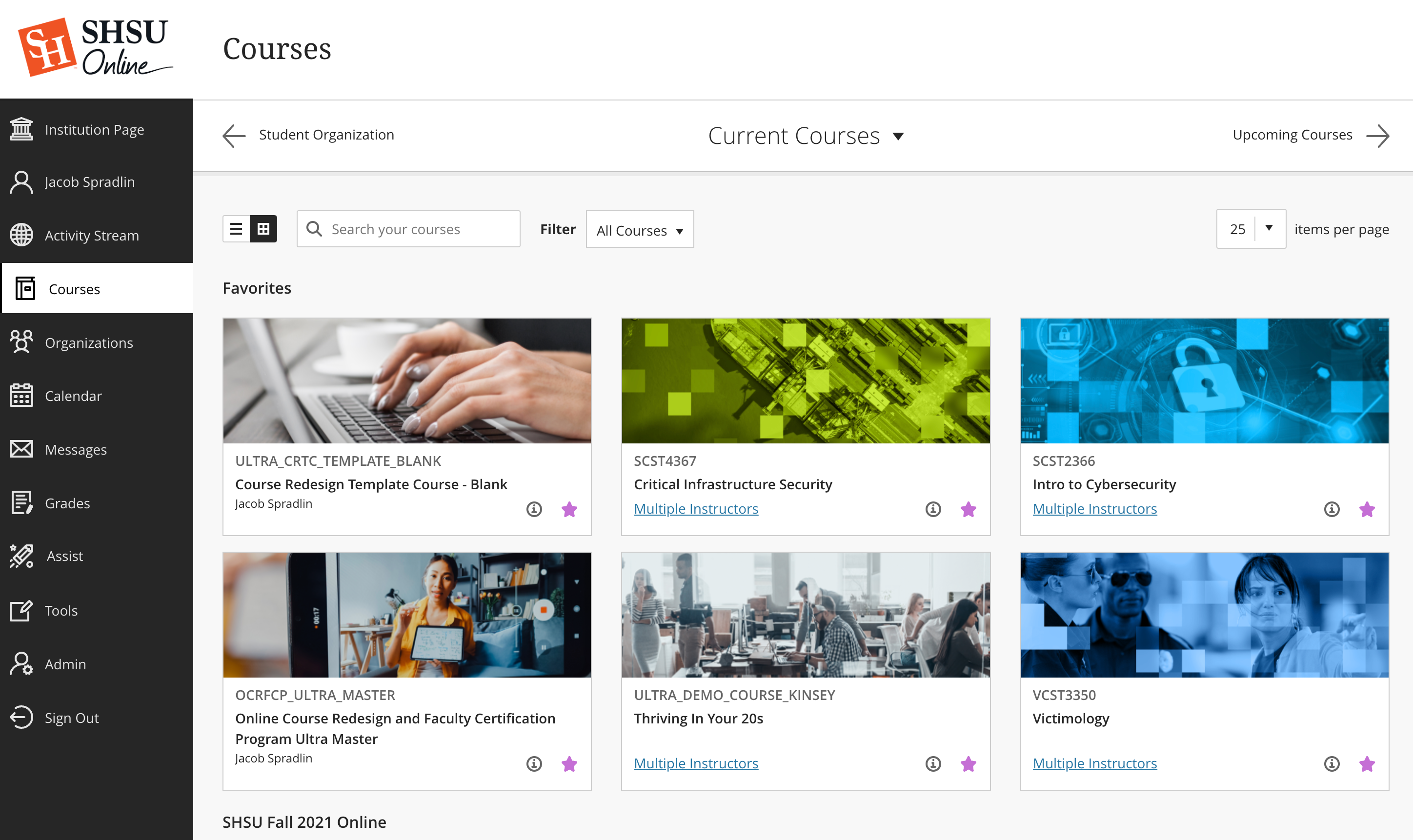 Will there be changes to the courses too?
Ultra offers a unique opportunity to host two different course design templates. You can either keep your course in its current, original format, OR, you can upgrade your course to the Ultra version.
Keeping your course in its original format means there won't be changes to how your course looks and functions now. In this scenario, only the landing page will change as a result of the upgrade.
Alternatively, Ultra grants you access to Ultra Course View. This is the new course layout rolled out most recently by Blackboard, Inc.
To explore an example of an Ultra course, please join one of our upcoming Ultra webinars or demonstrations.
Note: There are tool and training implications when switching to an Ultra course. We recommend working with your instructional designer for a demo of what an Ultra course has to offer, prior to making the decision to switch over. If you do switch over, we will migrate the course on your behalf.
Will there be training and demos for this change?
Yes. Soon we will release a full schedule of demos, webinars, podcasts, and recordings that detail the upcoming changes in depth.
We will also publish updates through articles, such as this one.
What other assistance will SHSU Online provide during this change?
In addition to demos, trainings, and webinars, you can also visit the evolving Blackboard Learn Ultra Transition webpage. There you can find videos featuring the upcoming changes, as well as How-To tutorials.
As always, SHSU Online is committed to supporting you and offering resources to help with the transition. From instructional designers to the 24/7 Support Desk, we are just a phone call or email away.