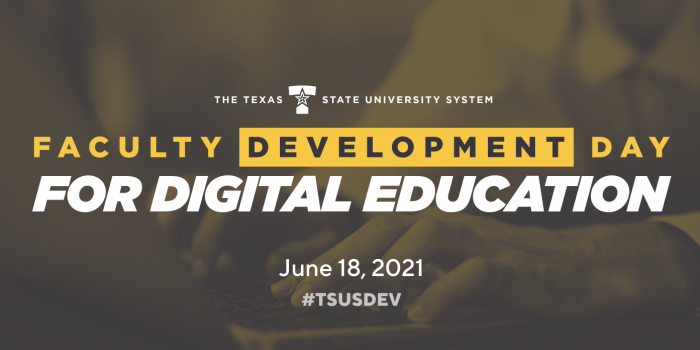 On Friday, June 18, 2021, instructors from across the globe attended SHSU Online's premier, one-day faculty development event. The Texas State University System Faculty Development Day for Digital Education was a tremendous success by multiple measures. Attendees were able to virtually attend multiple sessions on topics that were timely and applicable. #TSUSDev participants were able to connect with fellow instructors, Ed Tech leaders, and instructional designers from the comfort of their own office or home-office.
Featuring presentations from Sam Houston State University, Sul Ross State University, Lamar Institute of Technology, and more, #TSUSDev included multiple sessions for instructors focused on best practices and methodologies for teaching web-enhanced, blended, and online courses.
Take a look at the following breakdown of the event's vital statistics:
By the Numbers:
322 Registered, from
35 Institutions, attending
13 Sessions
Session Attendance:
| | |
| --- | --- |
| Session Title | Attendees |
| Managing Larger Enrollments in Hybrid & Online Courses | 82 |
| The Blackboard Retention Center – Blackboard's Early Warning System | 73 |
| In Praise of the Blackboard Organization Site (Pre-Recorded) | 28 |
| Getting More Out of Your Blackboard Quiz/Exam | 79 |
| Hybrid and Online Teaching Practices for Biology Instructors (Pre-Recorded) | 20 |
| Engaging Students In Large(r) Hybrid and Online Courses | 85 |
| The Immunization Partnership Presents – Immunization University | 47 |
| Effective Assessment in the Hybrid/Online Environment | 79 |
| Engaging Students During Online Meetings | 77 |
| Hybrid and Online Teaching Practices for Math Instructors (Pre-Recorded) | 18 |
| Making Groupwork Work | 68 |
| Fostering Academic Integrity in Hybrid/Online Courses (Pre-Recorded) | 23 |
| Blackboard Gradebook Tips & Tricks | 65 |
Satisfaction Survey Results:
100% of respondents learned a new technique/technology that they would apply to their courses.
100% of respondents were satisfied with the FDD speakers.
99% of respondents liked the virtual event platform
Survey Comments:
"I liked learning about Blackboard."
"Very helpful and informative…"
"This was a great opportunity today. Sometimes it was hard to choose with breakout to attend. So glad these were recorded."
"Very enjoyable conference. A lot of good information…"
SHSU Online wishes to thank all the attendees, presenters, university and System leaders, and everyone who had a hand in making the TSUS Faculty Development Day for Education a successful event. We look forward to our next one!