The last few months have been a time to shine for several SHSU Online staff members, who have earned a number of awards and recognitions reflecting their commitment to providing quality service to the Sam Houston State University community. SHSU Online Newsletter is proud to join in celebrating the achievements of these staff members!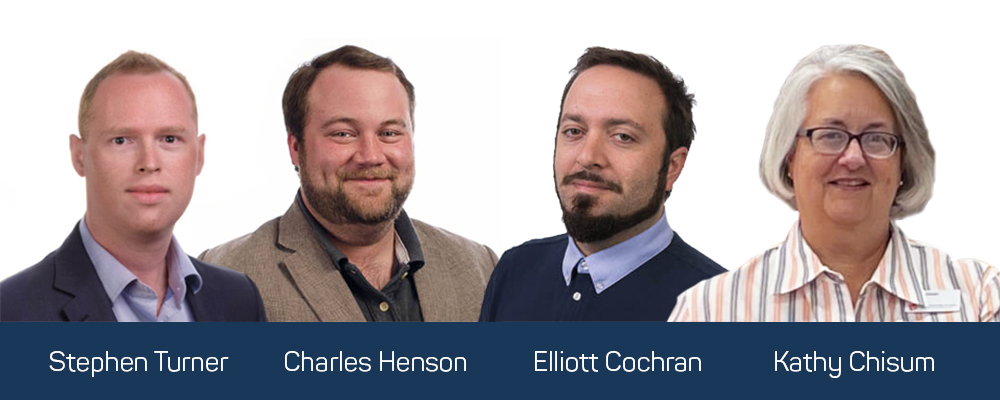 Chisum Honored With Staff Council Spotlight Award
Kathy Chisum, SHSU Online instructional designer assisting the First Year Experience and Student Success team, was awarded the Staff Council Spotlight Award in late May. Dr. Bill Angrove, Associate Vice President for Distance Learning, congratulated Chisum on winning the award, also noting: "Additionally, thank you for being instrumental in developing the 'Hot Moments' professional development event, as well as your work mentoring Austin and Fara through the online certification program. Finally, thank you for the work you are doing to transition the course content from the UNCG Canvas LMS to SHSU Blackboard and much more. You are simply amazing!"
Chisum responded simply, "Working with a great team allows me to get more accomplished!" SHSU Online salutes Chisum in this recognition of her outstanding service.

Human Resources Leader Appreciates SHSU Online's Henson, Turner
In a letter to Dr. Bill Angrove, Senior Human Resources Manager Thieme (TJ) Bittick singled out two SHSU Online staffers for their role in assisting Human Resources in their professional development initiatives:
"I've been meaning to send a personal note of thank you for some time regarding the amazing support members of your team have given to our employees' professional development at SHSU. Specifically, I'm referring to Stephen Turner and Charles Henson. Both of them are a delight to work with and make what I do so much easier.
"I have worked extensively with Stephen on creating an online ADA-compliant template for SHSU's compliance trainings over the last couple of years. We've also created online trainings from departments outside HR. In addition, Stephen assists with getting our live Learning Academies' trainings converted (with the help of Jessie Hobson, another great SHSU Online asset) to online so that users unable to attend can still have the benefit of the class. Stephen's knowledge, affable nature, and wise advice make the labor-intensive process we used to have to go through before we partnered with him a breeze. I couldn't have asked for a better colleague and in fact consider him an essential part of the professional development "team" at SHSU.
"Charles has been incredibly supportive in making the "Conversations with Administrators" series the success that it has become. His calm, unflappable demeanor and attention to detail makes me confident in knowing that when the day of presentation is upon us, I can turn the reins over to Charles and breathe a sigh of relief that it is now in his hands. He brings it home with the class and skill only a seasoned professional can demonstrate.
"I know that sometimes, as a senior executive, you may not always get to hear how individual members of your team are doing at ground zero. I wanted to pass along my thanks for Stephen and Charles to you so that you would know they are making a difference. Again, thank you!"
Instructional Designer Cochran Earns Staff Excellence Award
Elliott Cochran is one of five SHSU employees whose demonstrated excellence in service, proven commitment, commendable performance, and a high level of motivation earned them the 2021 Staff Excellence Award. Cochran, an instructional designer for SHSU Online, serves as a lifeline for professors to support online students and engage them in the virtual classroom in a way that matches in-person experiences. As a June 30 Today@Sam article notes: "Since 2019, Cochran has overseen 126 online courses in the College of Criminal Justice alone. His work requires a dedication to technology and developments in the field of distance learning, but also an ability to translate those practices and guidelines to faculty members in a meaningful, understandable way."
Some of the comments accompanying Cochran's nomination for the award include the following:
"Elliott's feedback and guidance allowed me to use tools I had not considered previously. His structured, critical, and valuable feedback as well as the ability and willingness to troubleshoot or to find easier, or more creative ways to do things, enhanced the overall design and redesign of assigned courses."

"Even though not visible, not directly in the public eye, not in the front offices, staff like Elliott Cochran work weekends and odd hours to support us, to keep the lights on for us, to make us feel like we are a priority and to make us look good. Those are some of the many reasons I feel he deserves recognition for this award."
"Elliott's hard work and rapid course feedback and evaluation allowed us to bring our online major to fruition during a pandemic. To give a sense of the growth Elliott has helped make possible, our enrollment has tripled in three years."
Again, SHSU Online Newsletter congratulates Elliott Cochran on the Staff Excellence Award!