August 2019 brings with it faculty development sessions that will help start your online courses off on the right foot. So, before the semester starts, be sure to sign up for one of our four How-To sessions covering topics that will help you kick off the new semester.
The SHSU Online faculty development offerings are:
First Week Strategies for your Web-enhanced, Hybrid or Online Course [8/5 | 9:00 a.m. -10:30 a.m.]

Kaltura – Adding Video (Webcam, Screen Recording and Interactive Video Quizzes) to your Blackboard Course [8/7 | 1:00 p.m. - 2:30 p.m.]

Bb Quick Start – (Best for Faculty who are new-to-Blackboard or need a refresher) [8/14 |

9:00 a.m. -10:30 a.m.

]

Virtual Office Hours with Blackboard Collaborate [8/15 |

1:00 p.m. - 2:30 p.m.]
Learn more about these faculty development sessions by reading below, and visit our how-to session sign-up page to enroll.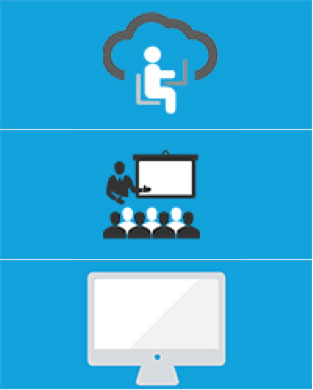 First Week Strategies
Studies have shown that the first week of an online course is key for your students. The activities and interactions that take place in that first week can influence the rest of the semester. There are strategies that you can employ at the start of your course that will help you and your students have a successful learning journey. This one-hour session will outline activities, ideas, and strategies you can use during the first week of your course.
Kaltura – Adding Video
Adding video to Blackboard courses just became easier! This 60-to-90-minute session covers how to add video to your Blackboard course using the Kaltura Mashup tool. Attendees will learn how to record and upload video from their webcam as well as capture what is on their own computer screen. Attendees will also learn how to create interactive video quizzes from videos that they have uploaded.
Bb Quick Start
This 90-minute session is for those folks who may be a little "behind the 8-ball" when it comes to Blackboard skills, but still need to use Blackboard when the semester starts. Learn how to put content into your course, communicate with your students and assess their progress. Bring your digital assets with you and be ready to get to work!
Virtual Office Hours with Blackboard Collaborate
This session focuses on using Blackboard Collaborate Ultra to host virtual "office hours" in online courses. Attendees will learn how to create, edit and facilitate a Blackboard Collaborate Ultra session for their students. These sessions happen in real time, but can be recorded and shared if needed.