Tony Tovar: Teaching in Texas, Living in Shanghai
More than 90 percent of SHSU's online students live and work in Texas, with more scattered around the US, and a few who live even farther afield, like SHSU Online student Tony Tovar who is pursuing a principal certification.
For the past 12 years, Tony Tovar has made Shanghai, China his home with wife Yun Yang and daughter Noelle, teaching sixth grade language arts, history, and drama at Concordia International School Shanghai.
Tovar admits that his early college years weren't very focused.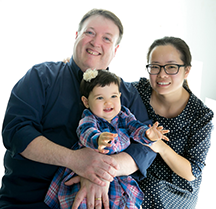 ---
"I basically majored in Ping-Pong, pool, and sleeping," says Tovar. He took three years off before returning to school with a much more serious outlook, one that eventually led him to education.
"I started out as a communication major, switched to English, and then decided to add secondary education as a fallback, and I discovered I loved teaching.
He switched his major to elementary education, graduated and went on to earn his M.Ed. in Curriculum and Instruction ten years later. He's now pursuing a Principal Certification from SHSU Online, to take his career in education to the next level by becoming an administrator.
"After 20 years of teaching, I've decided that I want to move into administration," says Tovar. "I want to take my influence beyond the classroom and help shape a new generation of teachers and learners. It's the logical next step for me."
While Tovar admits that he'd prefer sitting in a classroom, learning together with a group of people, his Shanghai address made that difficult.
"My teaching license is in Texas. In order to have principal certification added to my license, I needed to take courses from a program approved by the Texas Education Association. However, they don't approve universities in Shanghai, China."
With no immediate plans to return stateside, Tovar looked at his options from an international perspective, turning to US-based, accredited universities with online programs.
Fortunately for Tovar, he was no stranger to online education, having completed his M.Ed in Curriculum and Instruction online. Before completing his research, Tovar outlined his specific needs relative to his online education.
"I was looking for program that I could complete in two years or less and for a program with classes that interested me."
But, more importantly, he wanted a program that took into account that he already had a Master's degree.
"The main thing that made me choose SHSU was that it gave me credit for my previous education and experience," says Tovar. "SHSU is giving me the tools to get my principal certification without having to work on a second master's degree."
Tovar still experiences hurdles similar to those other online students may have, like balancing a full-time job, his family life and demands of schoolwork. Tovar tries to take advantage of quiet, early mornings, planning time during the school day, and lulls in action between when school lets out and dinnertime.
For Tovar, the fact that he lives in Shanghai, China and not in the United States has not changed his online learning experience.
For example, Tovar especially enjoys being able to think about his responses before giving them.
"A nice part of taking online classes is that I have more time to craft answers. In the classroom, the teacher or a classmate asks a question, and you have to formulate an answer quickly or you don't always get to share," says Tovar. "With the discussion board format, I can look at someone's post, think about it, and come back later that day or the next day and give a response that is more thoughtful."
Along with these benefits, Tovar does experience one unique advantage of taking online courses while living in China: the International Date Line.
"Shanghai is 13 or 14 hours ahead of Huntsville," says Tovar. "If an assignment is due on Friday at midnight, for example, I can wake up on Saturday morning, have a cup of coffee, and put the finishing touches on it before I turn it in, and it's still on time."
---
Are you an American living and working overseas looking to further your education? Or perhaps you're an international student looking for an accredited university program? Explore our many online degree and certificate programs.