Tam Pham: Enlisted & Online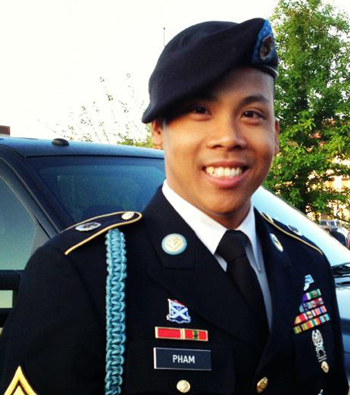 ---
Tam is pursuing an online Bachelor's degree in Criminal Justice. He is currently stationed in Oahu, Hawaii.
A first-generation American, Tam Pham's parents came to the United States after the fall of Saigon during the Vietnam War. The youngest of three boys, Pham joined the U.S. Army immediately after high school, shocking his parents in the process.
"Coming from a middle-class family with strong Vietnamese roots, joining the service was out of the question," says Pham. "So imagine my mother's objection when I told her I was not going to college but instead enlisting."
After many months of arguing then suffering through the silent treatment, Pham's mom finally got a promise from her son.
"I promised her that I would pursue my degree when I was able, and I would not give up on my education," says Pham.
And he hasn't, turning to SHSU Online to help him keep that promise.
Pham, now 27, has been pursuing a Bachelor's degree in Criminal Justice for the past decade. He tried, and failed, to complete traditional courses while on base but his schedule simply wouldn't allow it.
Pham is currently stationed in Oahu, Hawaii as a Squad Leader in a Light Infantry Battalion with the 25th Infantry Division. When he's not on base, he can spend up to nine months in training followed by twelve months or more of overseas deployment.
"Many times I had to explain to my professors that I would be unable to turn in assignments because I would either be in a different state training or out of country," says Pham. "It made a pursuit of a traditional education difficult."
In 2012, Pham transferred to SHSU Online for its highly rated undergraduate criminal justice program and because online courses allowed him the flexibility to pursue his education along with his primary commitments.
Pham was also pleased with the support he received from recruiters in the Veteran's Resource Center.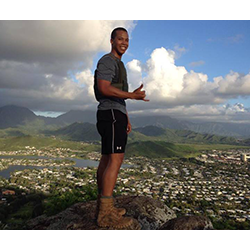 "I had honestly never had a Veteran Affairs rep that understood the complexity of how an active duty soldier's life was and how to help me succeed in my future endeavor with SHSU."
Still, Pham had to learn how to be a full-time online student with a full-time job.
"I believe to be an online student, there is a level of discipline and dedication to stay on track and complete your work," says Pham. "Finding that balance came with time. It took a lot of growing up and deciding what a priority was and what was not."
It helped to remember the promise he made to his mother and his own professional goals.
"My mother has worked the same occupation for 30 years and has never complained once, and although I am the youngest of three, I will be the first to get a degree in our family," says Pham. "I want to set a standard for my future family and show that although our lineage started off as refugees, you can still be so much more."
When he graduates, Pham hopes to pursue a career in the Federal Law Enforcement sector and earning his degree online while completing his military service can help him do that.
"[My degree] also allows me several opportunities to pursue a career outside of the service so I don't fall behind my peers in the job market. I'll have the best of both worlds: a degree and experience."
SHSU Online is proud to support active military students like Tam Pham as a military-friendly university, and we're committed to supporting other student veterans with the very best in online programs at both undergraduate and graduate levels. We offer several online programs highly ranked in U.S. News & World Report's rankings of 2014 Best Online Programs for Veterans, including Best Online Bachelor's, Graduate Education and Graduate Computer Information Technology Programs. To see these and other degrees, visit our degree programs page.