Rebecca Gay: Continuing Education While Working in Continuing Education
When Rebecca Gay completed her undergraduate degree from Sam Houston State University in 2008, she did not realize the extent to which the university would influence her professional career.
Upon graduation, Gay took a position with the university as a transfer admissions counselor with the Undergraduate Admissions office. Working in the office and regularly speaking with enthusiastic students eventually played a part in influencing her to pursue a Master of Arts in Higher Education Administration.
"In my position, I think getting a degree in higher education basically says that I believe in the values of the university," she says. "Working for a university, it's important that you feel everyone should further their education in some way. By pursuing a graduate degree, it helps instill that ambition in others and they see me making the effort to further my education."
Gay, who is currently pursuing her graduate degree while also serving as a continuing education coordinator with SHSU Online, says her decision to pursue an online degree through SHSU Online is a testament to her confidence in the university's educational philosophy.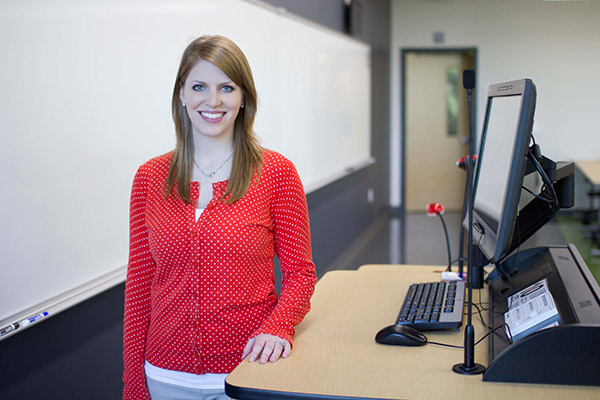 Initially, she decided to try an online course to gauge her interest with the platform and found it to be beneficial to her lifestyle and study habits.
"Taking online courses helped me to stay focused on the program; I can just hop on a computer and easily turn in an assignment and I'm not required to go to a classroom or an office to submit work," she says.
"I'm a huge procrastinator, and what's nice about the online program is that if an assignment is due at midnight, I have until 11:30 p.m. to keep working on it before I turn it in," she says.
Continuing her education is a personal motivator for Gay, who is the first in her family to pursue a graduate degree, and she says the online platform allowed her to follow her ambitions while maintaining a demanding, full-time job.
She said in addition to the ease and accessibility of online courses, the platform helped her grow as a student.
"I think people don't realize that online and classroom courses are very much alike in that there is a lot of student interaction. One of the most beneficial things for me was when professors used discussion boards. Typically, I would have been a student in a classroom that probably would not have spoken up about a topic, whereas online you are required to write on a discussion board and put your opinion out there and critically think about the topic."
SHSU Online utilizes the Blackboard Learn format, allowing students and professors to participate in a variety of communication applications.
Visit https://online.shsu.edu to find out more about the online Master of Arts in Higher Education Administration offered through SHSU Online, and see what you can do to get started today!