Karolyn Williams: Back to School After 20 Years as a Professional
Returning to college after spending 20 years in the professional field may sound intimidating, but the quest for knowledge and opportunity to further her career brought an SHSU graduate back to pursue an online graduate degree.
Karolyn Williams, a regional collections specialist for the Office of Court Administration, graduated from Sam Houston State University in 1988, but returned in 2011 to enroll in the online Master of Science in Criminal Justice Leadership and Management program.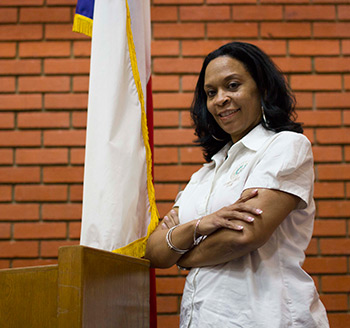 ---
Williams says that nearly 20 years of working in various capacities in the court system has exposed her to a variety of policies and procedures—but by taking online classes with the College of Criminal Justice, she has built on her professional foundation.
"This program has given me a broader perspective of the processing side of criminal justice, from policing laws, statutes, organizational context, and structure, and these are all covered in the online courses," she says. "I do a lot of studying on the weekend and at night, and thanks to technology, I'm able to listen to my lectures when I'm driving in the car, which is really helpful."
In her current position, Williams says she spends a considerable amount of time in the car, driving to various jurisdictions within her territory of 29 counties along the Gulf coast to consult, audit, and train staff on a state mandate to improve the collection of criminal court ordered fines and fees.
Williams' time with the Texas courts system has set a historic precedent. In her previous role as a manager of criminal courts with the Harris County District Clerk's Office, and her current position as regional collections specialist for the Office of Court Administration, she is the first African American female in both the country and state to hold these positions. Williams was also employed through the Harris County District Clerk's Office as a district criminal court clerk, criminal collector, and supervisor of criminal collections department.
She says her personal and professional conviction served her well through the process of attending online classes amidst her busy schedule.
"Looking back from when I started classes, I can see my tenacity—when I've overcome, when I was self-doubting, when I needed the power to see it through and the will to keep going through the work, the travel, and everything else in my life," she says. "Taking online courses has been very beneficial to me, especially with regard to time management. The biggest hurdle for me in a traditional classroom setting would be the time factor."
A central theme throughout her life has been the importance of family. Williams says her primary influence for returning to higher education is her father, Charles Drisdale, who was an emotional anchor for her and who served as an educator in the Houston Independent School District for 40 years. By taking classes online, Williams will receive her degree in May, simultaneously while her son Kristopher, niece Brianna, and nephew Miles, currently attend class on campus.
Williams says she is ready to further utilize her degree in the professional field and would recommend pursuing an online degree to anyone willing to develop their skills and education.
"I found the process of obtaining an online degree to be very challenging, but also very rewarding, and I've loved it," she says. "I feel the online program has prepared me for the next level of my career."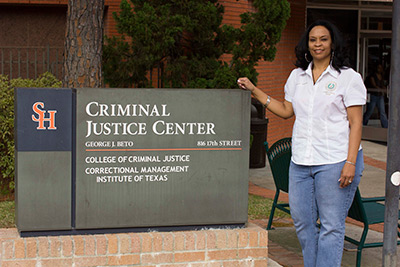 Visit https://online.shsu.edu to find out more about the online Master of Science in Criminal Justice Leadership and Management, and see what you can do to get started today!