Have you ever considered the sheer amount of digital content in your course? How about across all courses in your department? Or better yet, across the totality of the institution?
A close look at a single semester's worth of content can clue us in to just how many digital assets SHSU instructors make available to their students.
In the Spring 2022 semester, fully online courses at SHSU contained 118,267 individual content pieces. Among a variety of content types, these include some heavy hitters, such as are detailed in the table below:
Digital Content Assets, Fully Online Courses, Spring 2022

PDFs

16,916

Word Docs

7,622

Images

32,071

Items

29,628
There is no shortage of content in online courses, and the same can be said for face-to-face courses and hybrid sections that utilize Blackboard in some capacity.
While fully online courses in Spring 2022 contained 118,267 content pieces, face-to-face courses outranked them with 166,476 individual content assets.
In fact, face-to-face courses at SHSU are leveraging Blackboard heavily to provide student access to a variety of digital content, including:
Digital Content Assets, Face-to-Face Courses, Spring 2022

PDFs

34,743

Word Docs

19,308

Images

32,937

Items

32,841
Providing access to digital assets, however, must also be accompanied by a consideration for digital accessibility. Digital accessibility refers to the inclusive practice of removing barriers that prevent interaction with, or access to digital content, particularly by neurodiverse learners.
The goal of promoting digital accessibility can take on many different forms. For neurodiverse learners with visual considerations, for example, digital accessibility can entail providing "Alt Text" in Images.
Alt Text, also called Alt Tags or Alt Descriptions, provide a textual substitute to describe images. Such text is used by assistive technologies, such as screen readers, to audibly describe an image to a neurodiverse learner with a visual impairment.
Alternatives to text-based assets, such as PDFs, Word Documents, and Items can also take on different forms. From electronic braille to audio files, providing alternative formats of content significantly improves the digital accessibility of learning materials.
But, you may be asking, "How do I begin converting the individual content pieces in my course to more accessible formats?"
If you find that question daunting, we have good news!
SHSU Online licenses a special tool integration in Blackboard called Ally®, which automatically provides your students the ability to download digital assets, such as PDFS and Word Documents, into various accessible formats, including electronic braille, audio, semantic HTML, and more.
For students, accessibility is as simple as clicking a button. Within a Blackboard course, students click on the Ally icon, shown below, to select the alternate format they wish to download. No additional formatting is required from you as the instructor…it's a win-win!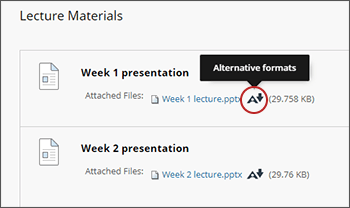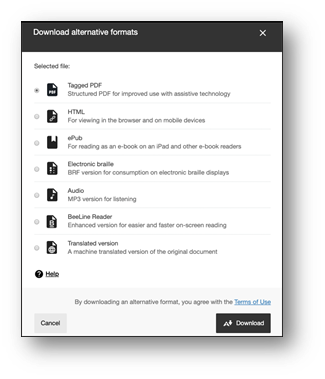 In 2021, SHSU students downloaded 92,983 alternative file formats, thus proving the value and use of digital accessibility. If you want to learn more about Ally®, please contact us today!