Over the course of the next few months, we will attempt to offer a breakdown of some of the benefits of Ultra Base Navigation as it relates to the instructor experience, all the while highlighting features that will benefit students as well. For this month's issue, we are taking a look at the Activity Stream.
The Activity Stream – An Educational Newsfeed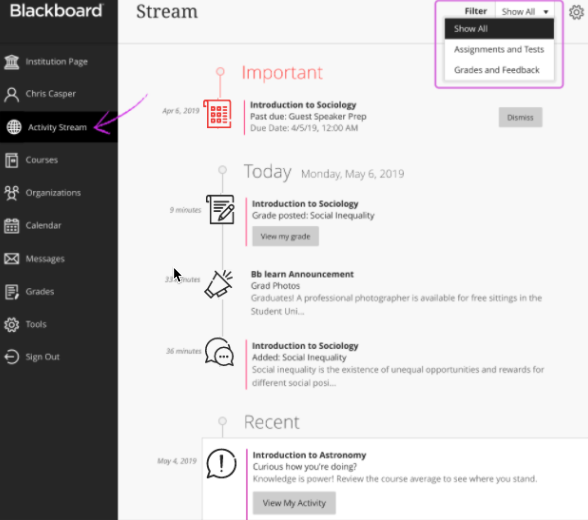 The Activity Stream in Blackboard provides up-to-the-minute action on important information and activities for all courses. It provides a quick access point for faculty and students to interact with grading, assignments, discussions, and other Blackboard elements for all Blackboard courses... in one place.
You can see what's new in all your courses and jump directly into course activities from the list. You don't need to dig through the system or miss submissions from students. You see a prioritized list of what's relevant to you.
Follow latest posts on graded discussions as they happen. Posts on discussions that aren't graded are not visible.
Take note of how many submissions are ready to grade. You can also access new submissions from the stream.
Receive reminders about personal events and meetings.
Enjoy a bird's eye view of course activity and direct access to course items.
Filter your view. Use the Filter menu and choose Show All, Assignments and Tests or Grades and Feedback.
Blackboard has combined many notification features to help you find the targeted information you need. Over time, the system will get even smarter and help you understand which items are most time-sensitive or critical.
The Activity Stream is broken down into four categories:
Important: Students see overdue assignments, tests, and graded discussions. The number of items in this section makes up the count shown by Activity Stream in the list where your name appears. If you dismiss an item in this section, you won't be able to view it again even if you sign out and sign in again. When you dismiss a stream item, the original content isn't affected. You just remove the notification from the activity stream. Instructors also see course messages from co-instructors, TAs and students.
Upcoming: View your top five events that will happen in the next seven days. Select Show More for a complete list. This section doesn't appear if no upcoming events are available.
Today: See everything happening and due in the next 24 hours, including institution-wide announcements about emergency notifications and updates. If your instructors added announcements, they appear here or in the Recent section.
Recent: If you haven't checked in for a bit, view stream items that were previously in the Today section over the last seven days.
The Activity Stream works for BOTH COURSE VIEWS.
What Triggers Student Notifications?
New course(s) available
New content in course(s)
Student adds blog, journal, wiki entry
Grade posted
New course event added
Course message or reply
Due today/soon/past due
Events today/soon
What Triggers Instructor Notifications?
Instructor added content
New blog/journal/wiki entries
Items ready for grading
Course messages/replies
Alerts for students falling behind
New courses available
Events added to your course
Announcements
Events happening today/soon
View this video which shows how to access the activity stream and which items appear.
The Activity Stream will be available along with our upgrade to Blackboard Learn Ultra Base Navigation on May 23, 2022.
For more information about the transition to Blackboard Ultra and Ultra Base Navigation, visit our transition website.