Picture it, it is the first day of class; you have just finished the usual marathon of getting your course in Blackboard ready for the new semester. Everything is in its place and up to date then this happens: you get an email from a student who is confused as to why they are getting a notification that items are past due.
To make matters even worse, they mention an assignment that you are no longer using. But how! You spent so long going through your course and updating availability dates and due dates.
We have all been there. It is frustrating and the thought of going back through your course with a fine-tooth comb to find these odd dates and hidden assignments makes you want to just throw in the towel. Enter the Date Management tool, the hidden gem of Blackboard.
What is the Date Management tool?
The Date Management tool is a one-stop shop in your Blackboard course to see all availability and due dates assigned to any item. This can include assignments, quizzes, exams, discussion boards, content folders, etc. Anything in your course that has a date will appear here.
How do I access and use this amazing tool?
In your course, you will navigate down the control panel on the right-hand side to Course Tools then select Date Management. The first time you use this tool, it will ask you how you would like to adjust dates:
Use Course Start Date – this option will have you enter the new start date for the semester and will automatically adjust all dates by the number of days each date occurs after the start date.

Adjust by Number of Days – this option will ask you to adjust all dates by a certain number of days. For example, let us say that we lose a week of classes due to a weather emergency and so you need to adjust all dates accordingly, you would enter a 7 in the box to move everything a week forward.

List All Dates For Review – this option will display a list in alphabetical order of everything in the course with a date attached to it.
Selecting List All Dates For Review is a great way to glance at all content in your course with a date so that you can double check everything is correct and update dates along the way.

From the Date Management Review page (pictured above), you will have the option to check the boxes next to multiple items and adjust dates by a specific number of days or you can use the pencil icon to update dates individually. When assigning new dates individually, always remember to click the green check mark after entering the new dates to save the change.
After you have accessed the Date Management tool, anytime you return to the tool you will need to refresh it. The Refresh button is located at the top left-hand corner of the page and as you can see it will display the date and time the page is valid as of: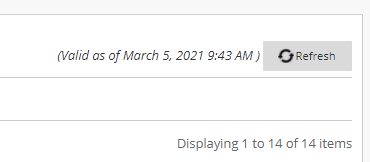 Is this tool too good to be true?
Absolutely not, but it does have its drawbacks. First, an item has to contain a date before it will appear under Date Management. You will not be able to use this tool to assign a date for the first time. Second, there are a few items and tools that cannot be updated using Date Management. This includes publisher content, Blackboard Collaborate sessions, and Kaltura video quizzes. You will notice that these items will appear in the list but will say "Read-Only" below them and will not allow you to edit the dates. For that content, you will have to update the dates at the original source. The last thing that Date Management will not do is allow you to delete an item from the tool. So for those instances where you find what I like to call "ghost assignments" (assignments from the past that you are no longer using but somehow are still in the course), you will have to locate the actual assignment in the course and delete it there.
Overall, Date Management is a handy tool to use to make sure all content in your course is up to date for the new semester.