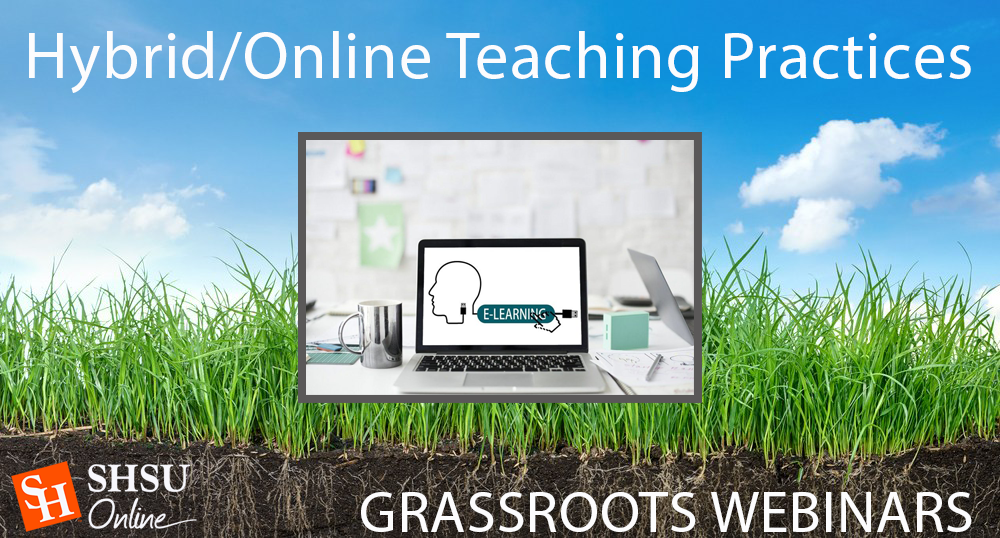 On March 25, SHSU Online began hosting Grassroots Webinars around online and hybrid teaching practices. Each webinar is hosted by SHSU Online, with presentations and discussions by faculty in specific disciplines and programs, in partnership with their instructional designers. These Grassroots Webinars will cover best practices, methodologies, and when appropriate, tools for teaching in a digital environment. Instructor-led discussions and the sharing of online/hybrid teaching examples is highly encouraged.
Example Webinar
Instructor(s) demonstrate practices/tools/strategies in a hybrid/online modality for their discipline.
Share successes, aha moments and lessons learned.
Provide examples in action of the concepts they are explaining.
Work as needed with Instructional Designers during presentation.
Once a webinar is complete, the webinar recording, and associated materials will be curated in the Teaching Online with Blackboard support organization to benefit others who are teaching the subject matter in a digital environment.
In hosting these webinars, SHSU Online looks to continue to foster support and connection in the digital teaching community.