Now that LinkedIn Learning is integrated with Blackboard – it is time to learn how to use it!
In a previous newsletter article, we presented several ways to begin implementing LinkedIn Learning into your courses. If you read that and decided you wanted to do it yourself, we have a guide for adding the link into your course: 
Here is a downloadable and printable step-by-step guide.
Okay, great! Now what?
Now you will see the Search LinkedIn Learning options, with some predefined categories to choose from or ignore:

For this example, we are going to search for "MS Office" and we will get 25 results returned.
The search tool integrated in Blackboard for LinkedIn Learning is limited in what it can return and display to the 25 top results. Therefore, we must be more precise in our search terms.
As an example, let's assume that you were really looking for MS Excel and Word and not the entire MS Office suite. We can perform those searches separately and receive more viable options for us to select from. We recommend that from here you keep getting more and more specific in your searches until you get to the content that you need.
For our example, we will search for "MS Excel Pivot Tables." The 25 results returned include courses from beginner level to mastery.

The result we are choosing is a 23-minute-long course for beginners; however, there are courses in this list that are over eight hours long! Either make sure that you are choosing a LinkedIn Learning course that is an appropriate length for your needs – or tell the students what sections of the courses you are interested in having them watch.
Below you can see the screenshot from the LinkedIn Learning course – Excel: PivotTables for Beginners. This layout is what you can typically expect to see for all of the courses in LinkedIn Learning.
The students are free to watch the videos in any order and can skip the quizzes as well. However, the certificate is not going to be accessible to the student until they complete everything within the LinkedIn Learning course.
Progress within the course is also tracked on the left side of the screen with green check marks. This is an excellent way for yourself or your students to know exactly what is left to complete the course.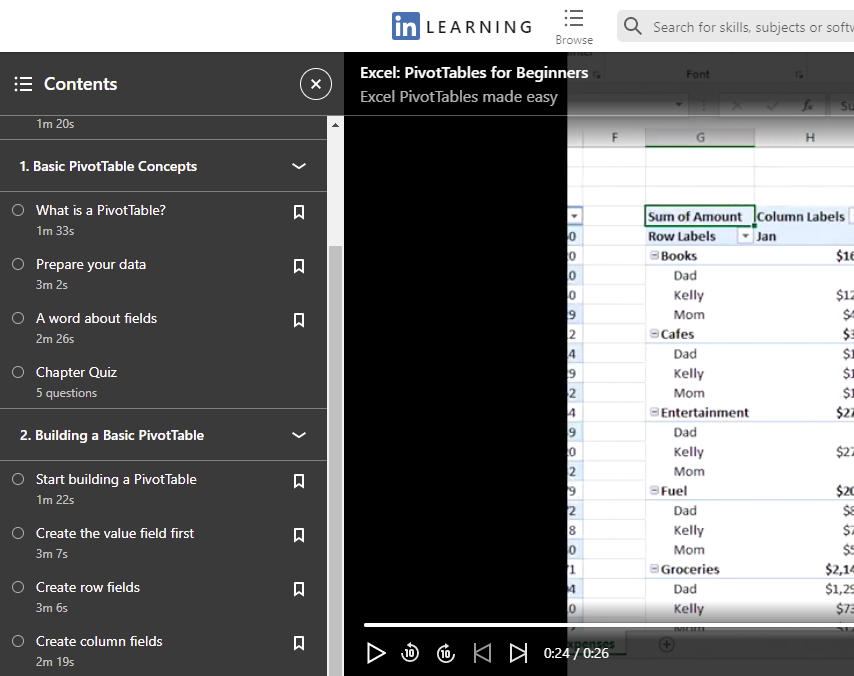 After the student has completed every section of a course, they will be able to add the certificate for it to their profile in LinkedIn and they can download a certificate to turn in to their faculty as needed.
There are also exercise files that go along with many of the courses to help guide the students through the lessons!
Stay tuned for more articles/updates in the future about LinkedIn Learning as there is still so much to discuss: Direct linking to Videos, Learning Paths (collections of Courses in LinkedIn Learning), replacing assignments with Linked courses, and more.