SHSU Online Support Desk
In support of a successful online learning experience, SHSU provides the best in class troubleshooting and technical support through the SHSU Online Support Desk. We support faculty, students and staff utilizing Blackboard and all its integrated academic software.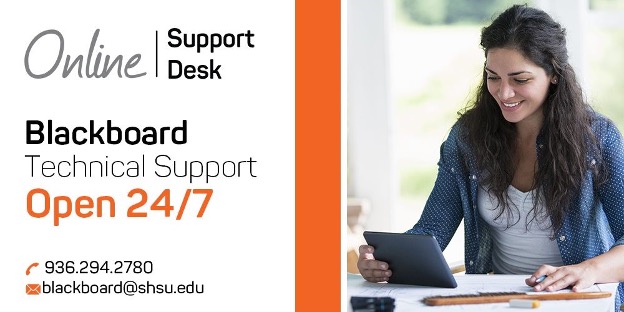 We understand that technology should enhance the learning experiences for everyone, and it is our goal to remove all potential technology roadblocks that you could encounter, hopefully before you experience them. We offer a variety of services and resources for quickly troubleshooting and resolving any questions that should come up. Our primary services include:
Support Volume and Metrics Summary
The Online Support Desk recorded a record number of support requests in the Fall of 2020. The number of individual faculty and students increased 174% from the Fall of 2019 to the Fall of 2020. Increased numbers of hybrid courses have resulted in a large increase in Blackboard activity and therefore increased demand of Blackboard support requests.
Incident Breakdown by Interaction Type
Comparison made between Fall 2019 and Fall 2020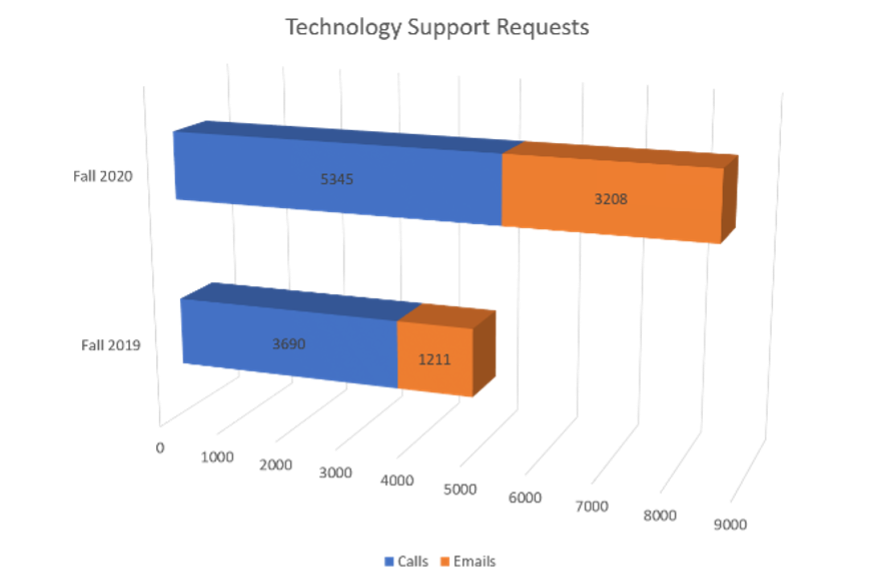 4,901 incidents (8/16/19-12/31/19)
8,553 incidents (8/16/20-12/31/20)
174% increase from Fall 2019 to Fall 2020
Incident Breakdown by User Type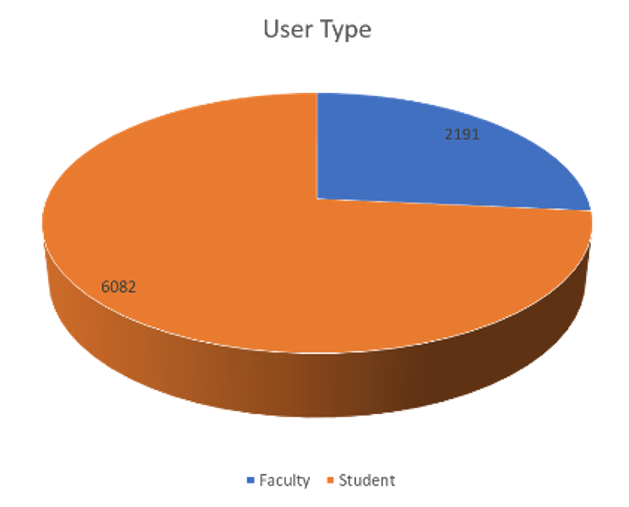 Faculty - 2191


Student - 6082
Incident Breakdown by Problem Categorization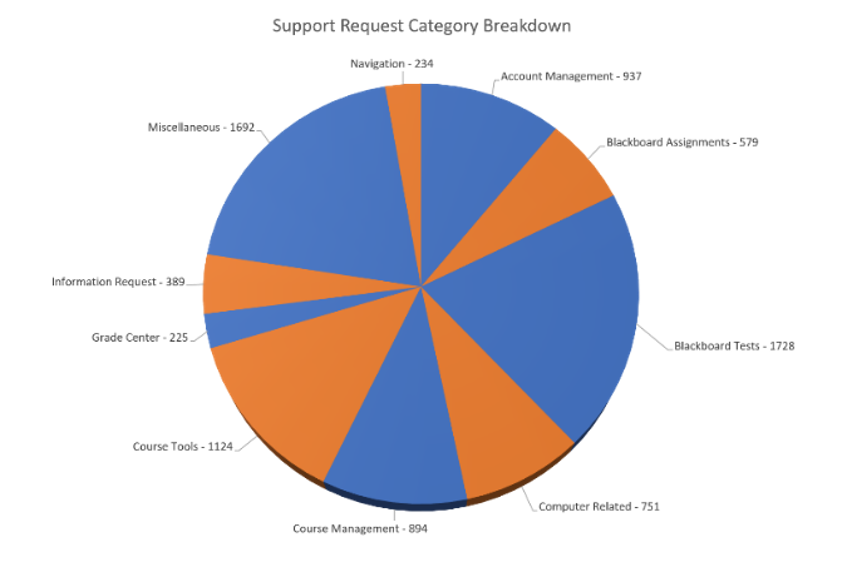 Account Management - 937
Blackboard Assignments - 579
Blackboard Tests - 1728
Computer Related - 751
Course Management - 894
Course Tools - 1124
Grade Center - 225
Information Request - 389
Miscellaneous - 1692
Navigation – 234
Satisfaction Surveys
During the Fall 2020 semester, the Online Support Desk maintained a (95%) satisfaction rating across all surveys. Below are just a few of our responses.
The Online Support Desk is patient and knowledgeable. I appreciate their investment in resolving my concerns and determining a solution that solves my problem not just for today but for the entire semester. THANK YOU SUPPORT DESK! -Faculty Member-
Thank you! Thank you! The Online Support Desk is always so patient and professional. I love your service and attention to detail for all my technology concerns. -Student-
I can only imagine how slammed you are with questions with so many new faculty and students using remote services. I appreciate a human answering the phone and helping my students when they have technology issues, especially at night! -Faculty Member-
How can you contact us?
Your Online Support Desk is available 24/7 and only closes for official University Holidays. We can be reached by phone at (936) 294-2780 or by email at blackboard@shsu.edu. Whichever your preference, we will be here to respond promptly and completely. Please reach out and let us know how we can help you!