Last week, I sent out a round of emails regarding the speedy transition between ProctorFree and Respondus Monitor. Even though the early discontinuation of the ProctorFree service was unexpected, transitioning to Monitor has been smoother than anticipated. Sincere thanks to SHSU faculty members for working flexibly with us and for guiding your students through the change.
"Technology and software changes are never easy, but our faculty and students have made the transition very quickly and seamlessly. Your SHSU Online Support Desk has fielded only 19 related calls or emails about Respondus Monitor since the transition. A mere fraction of the calls we would ordinarily receive on a typical testing weekend with Proctorfree" says Daniel Walker, Assistant Director of Online Support Services. Nearly 1300 exams were proctored by Monitor within the first 7 days of its release.
More about Respondus Monitor
Monitor is a companion application for LockDown Browser® that uses webcam and video technology to prevent cheating during online exams, much like ProctorFree. As many of you know, Monitor plugs in directly to a Blackboard course and can be launched from within the LMS.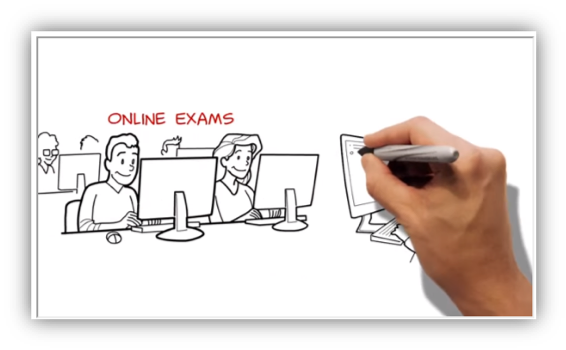 Monitor Video= https://youtu.be/hv2L8Q2NpO4
A few of its key features:
A fully automated, on-demand option: This means you do not have to schedule exams weeks in advance to benefit from the proctoring service. You retain flexibility and spontaneity to proctor exams when necessary, and your students can complete exams conveniently around their busy schedules. ProctorFree also featured this option, but many of the competing proctoring services require students to schedule their exams in advance, sometimes weeks ahead of time.
Suspicious behavior automatically flagged: The most time-consuming part of working with proctored exam videos is deciding which videos to watch and then determining at what point throughout the video a student may have engaged in suspicious activity. Monitor reduces this burden for faculty by flagging irregularities during an exam, and by providing a color-coordinated report (green=good, red=warning) to draw your attention to potentially suspicious videos.


Lockdown feature and webcam usage: Similar to other services, Monitor will record a student throughout the exam session and will lock their computer's usage of additional browser windows or computer programs. Exceptions can be made if an examination requires the use of additional programs or webpages.
Thank you for your patience during this time. Our commitment to you is that we will do our best to support you and your students throughout this time. "Your SHSU Online Support Desk is here for you and your students when you need us. We are highly experienced and make it a priority to provide lasting technical solutions quickly. Please continue to direct all student technical questions, especially those about Respondus Monitor, to your SHSU Online Support Desk" – Mr. Walker.