Despite Tropical Storm Imelda, which caused heavy rains and widespread flooding in the Huntsville area, the 2019 Digital Education Summit (#DES19) drew many SHSU faculty members, staffers, and others interested in the ever-evolving world of online education to the Lowman Student Center on September 19-20, 2019!
The summit featured keynote speaker Barbara Oakley, who also conducted a workshop on the role of neuroscience in learning, as well as numerous breakout sessions led by SHSU faculty members and SHSU Online's instructional designers.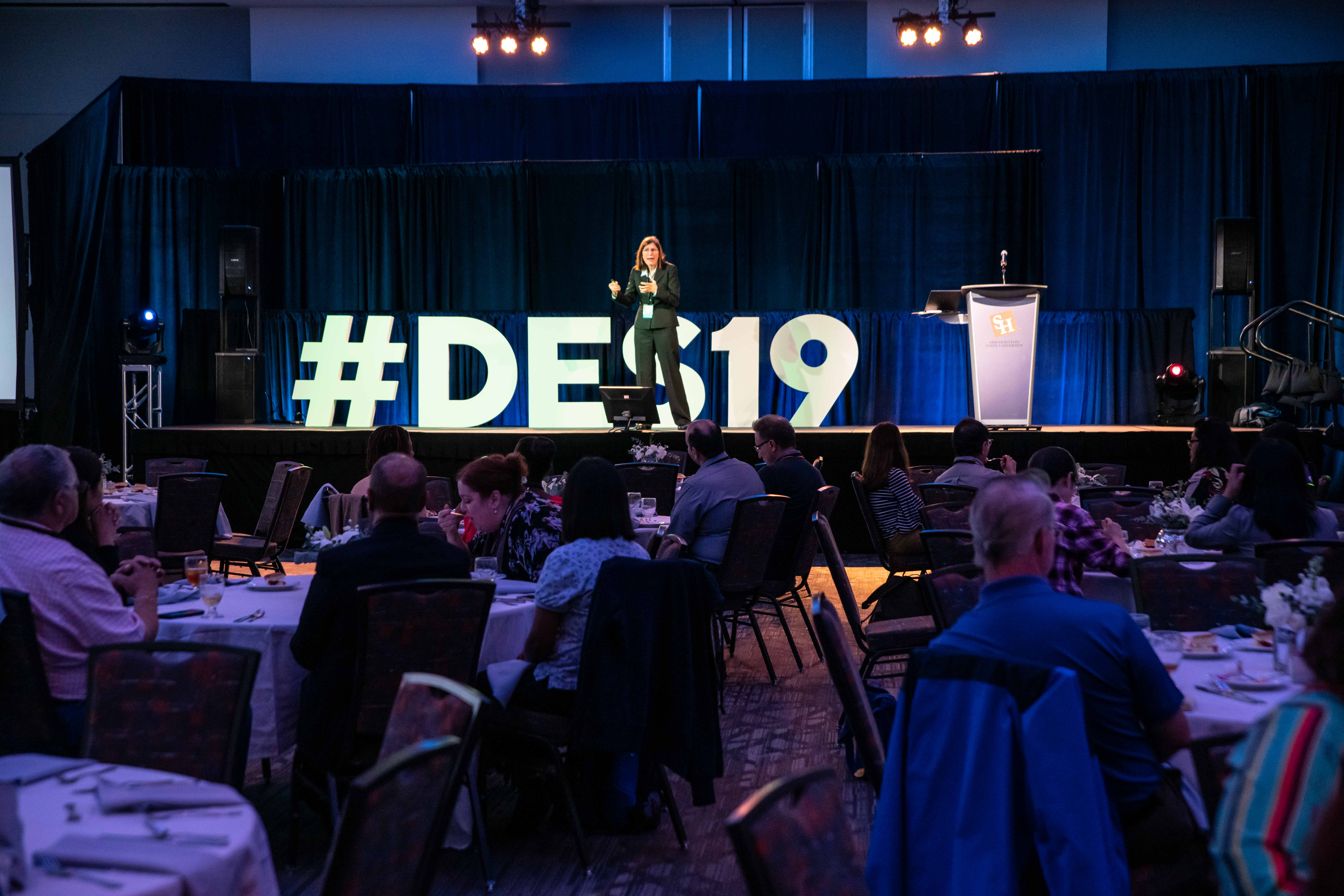 Summit attendees enjoyed a lunch and after-hours reception on the first day, as well as breakfast provided on Day Two.
For #DES19, the event committee tried a new approach to registration, organization, and communication by using a private meeting organization software company called Cvent. The company provided software to handle event registration and management which streamlined attendees' check-in experience, as well as a phone app for sending announcements, reminders, and prize notifications to #DES19 participants. Attendees found the software very efficient and easy to use.
A total of 132 people attended the summit - less than last year's event, but still a great turnout given the major disruptions caused by Tropical Storm Imelda. That number represented almost 65% of those who registered to attend.
A feedback survey conducted following the summit revealed high levels of satisfaction among those who attended #DES19. Here are some of the survey results:
80.8% of attendees who gave feedback said they learned a new technique/methodology that they will apply in their course(s).
88.4% of attendees who contributed feedback stated that at least one experience at #DES19 changed the way they thought about their online course(s).
76.7% of breakout session participants who provided feedback said that the sessions contained useful information they can apply to their courses.
100% of attendees who left event feedback said that the registration and check-in process was smooth and self-explanatory.
89.7% of attendees who gave feedback said they're likely to recommend future SHSU Online events to their colleagues.
SHSU Online thanks everyone who attended, presented, and produced #DES19... you made it happen!
Several SHSU Online staffers captured the moments of #DES19 on camera. Here is a gallery of photos taken during the event. (NOTE: Each picture opens in a new browser window).