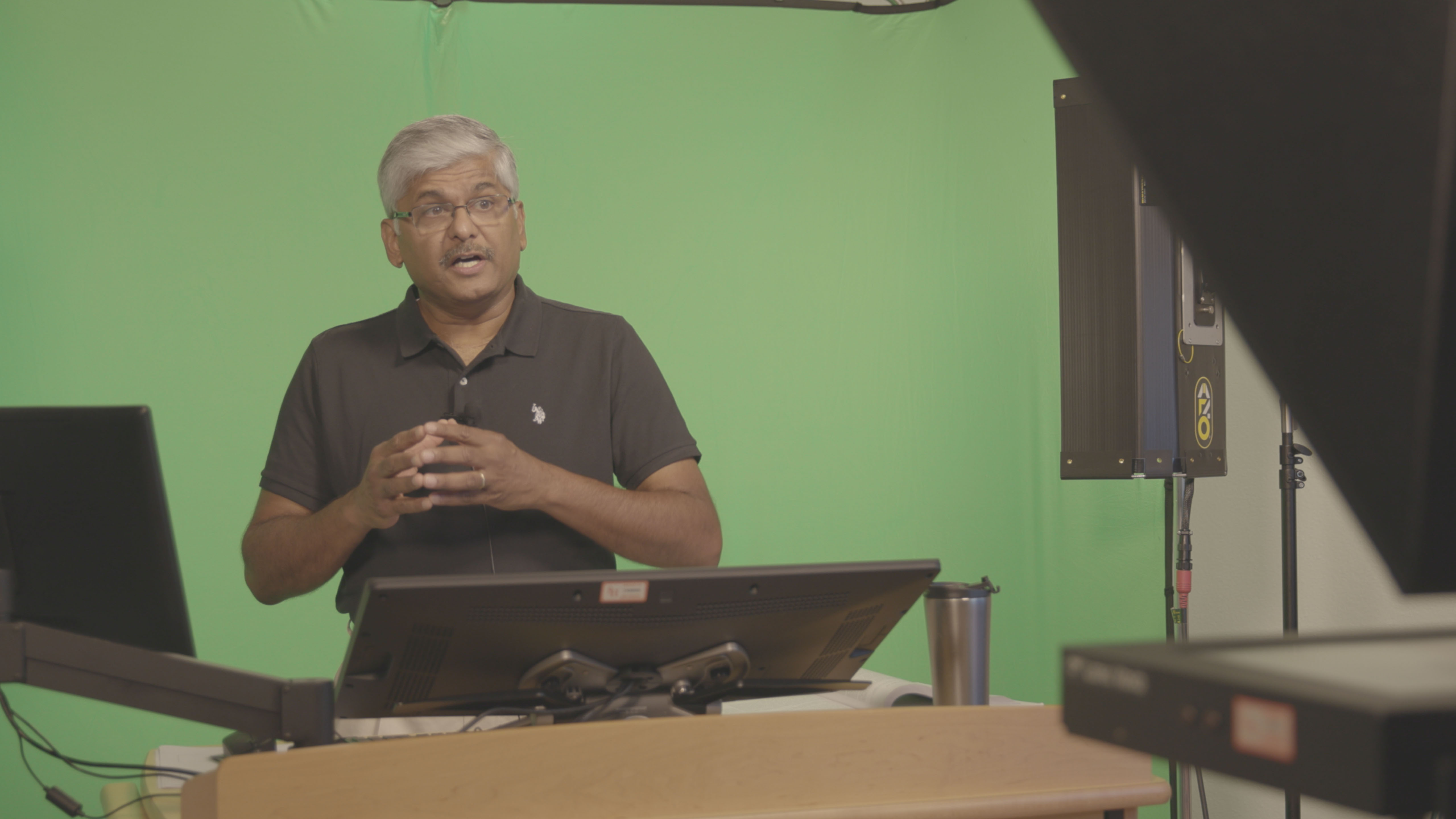 SHSU Online provides many different media services to help enrich the online learning experience for students… but getting started on creating content for online courses may seem a little intimidating to some faculty members at first. One of SHSU Online's longest-standing, most used services is a full-service studio, located on the bottom floor of the Dan Rather Communications Building. Last year, SHSU Online helped create over 500 recordings for faculty in every college at the university. Online Media Services staff members who utilize the studio technology aim to provide the best possible options in lecture capture.
Our studio is outfitted with the latest in production technology to yield professional-grade recordings for your online course. Key features of the studio include:
Pro Lighting
Pro Audio
Multiple High Definition Cameras
Document Camera
Screen capture for software tools
Wacom touch and draw monitors
Multi-input live recording
Teleprompter for scripted lectures
Green Screen background that can be changed
Professional graphics
We recommend, when faculty members are preparing to use the studio for the first time, that an Online Media staff member demonstrate all of these technologies to help identify what works best for the faculty member's lecture. Online Media Services staff operate all equipment during the instructor's time in the studio, so he or she can focus on the lecture content itself. The studio environment is built to serve faculty immediately. Recordings are often available on the same day and can be found in the "My Media" section of Blackboard.
Dr. Bala Maniam, a faculty member in SHSU's College of Business Administration, uses much of the studio's available technology during his lecture recordings. Here is an example highlighting available technology from Dr. Maniam's online Finance course:
SHSU Online will soon have additional audio/video recording options at the main offices in University Plaza, as well as the on-campus studio in the Dan Rather Communications Building.
Please reach out to Jessie Hobson (Jessie@shsu.edu), in SHSU Online's Online Media Services group, to begin creating professional grade content for your course now!