Since 2014, faculty development has made it into the top three of Educause's Key Issues in Teaching and Learning survey. In 2019 faculty development was ranked as number one in that survey, denoting a large push for leveraging student engagement and active learning. COVID-19 has drawn more focus in this regard due to the blended/hybrid/online environment, where instructors and students are now spending more time.
Recognizing this need, SHSU Online opened up its Online Course Redesign & Faculty Certification Program to all instructors, not just those teaching online, at the start of the Summer 2020 term. This program has been running full speed ahead, and it will continue to offer certification for the foreseeable future.
Cohorts are offered every semester, and have space for 40 SHSU instructors each. Our next set of cohorts will start in February of 2021. Registration for those cohorts will open in early January 2021. In the meantime, we wanted to provide you with some at-a-glance numbers from the program.
Faculty Certification Numbers At A Glance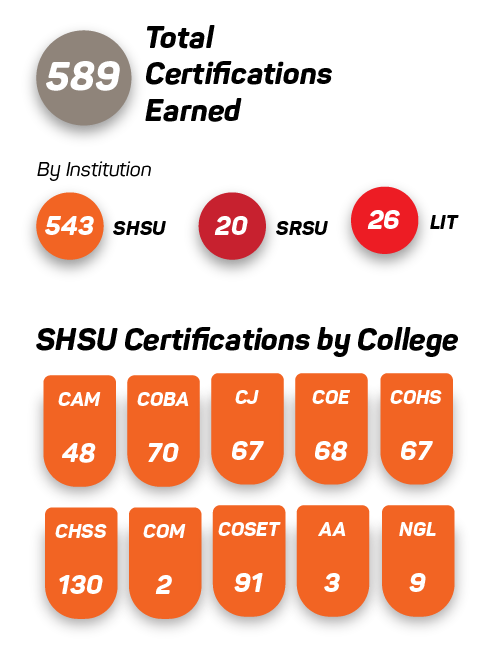 While these numbers are impressive, we wanted to share some statistics that point to the value of the Online Course Redesign & Faculty Certification Program. Prior to program start and just after cohort completion, survey attendees via a pre/post assessment to measure of how they feel about their time in the program. We believe that these numbers underscore some of the true benefits of the program.
Pre/Post Assessment from Online Course Redesign and Faculty Certification Completers (Summer/Fall 2020)
I know how to create a warm and caring environment for students in an online course.
I am comfortable developing an overall assessment strategy for an online course.
I know which tools in SHSU's Learning Management System (LMS), Blackboard (Bb), to use for effective online interaction.
I can take an approach to curriculum that minimizes barriers and maximizes learning for all students in the online space.
As SHSU Online continues to move forward in supporting faculty and students at Sam Houston State University, we hope to continue achieving results like this. With continuous improvement, faculty involvement, and strong support from administration, we are sure that SHSU will continue to be a great name in education.