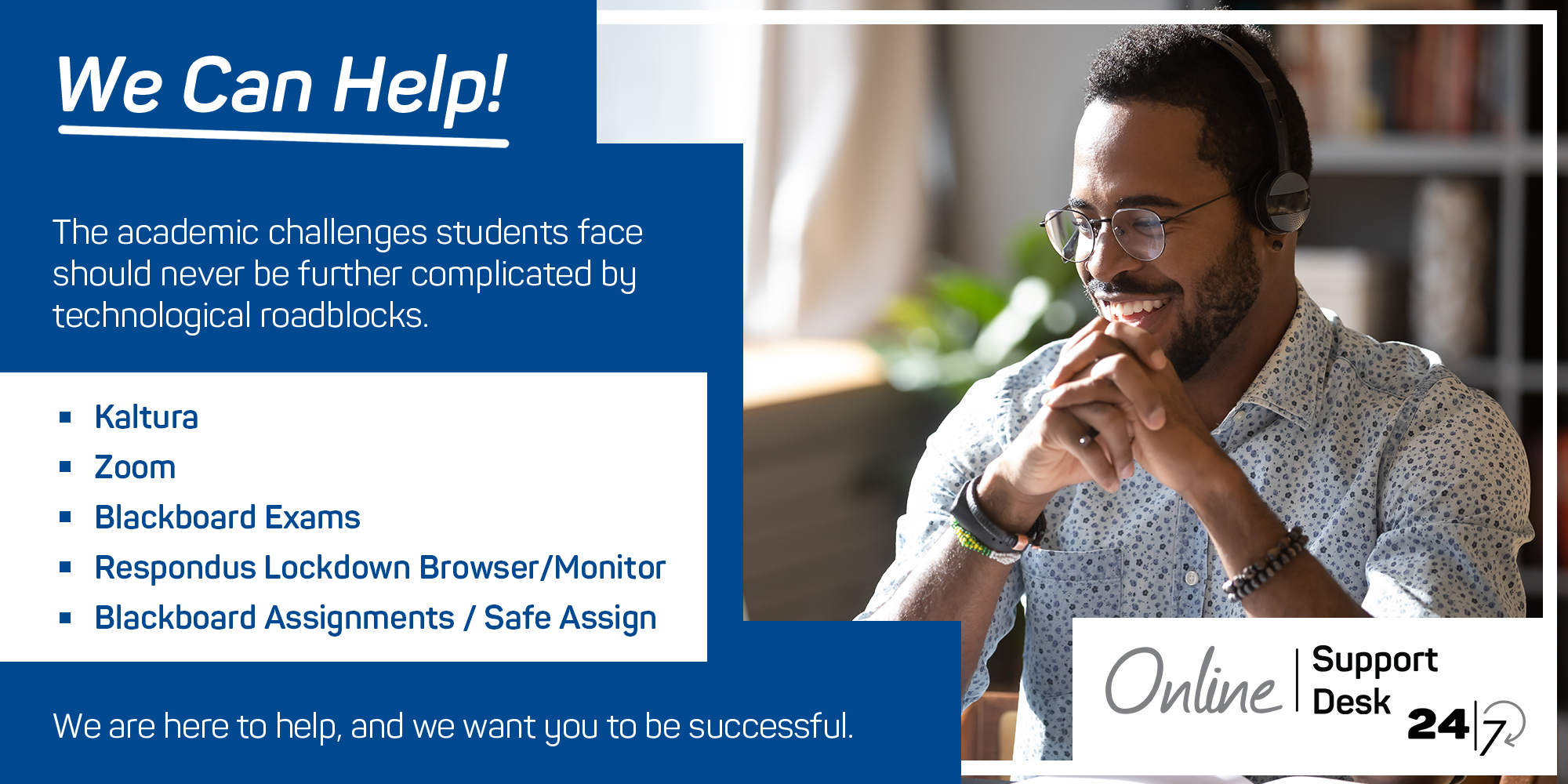 The SHSU Online Support Desk is the team you can call or email for Blackboard technical support needs. We are available 24 hours a day, seven days a week, with a team of over 30 dedicated personnel always ready and able to help when you need us the most.
From the start of the remote transition, the Online Support Desk has resolved over 2,800 individual support requests, resulting from an 86 percent first-time resolution rate and a 96 percent satisfaction rating.
The Online Support Desk has been critical to the day-to-day support and transition to remote learning at SHSU. Having a team that is knowledgeable and available to assist faculty and students in a moment's notice has made that transition possible.
The Online Support Desk works strategically with instructional designers, librarians, and the IT@Sam Service Desk to ensure that technology support is seamless and comprehensive.
During the transition to remote learning as a result of the COVID-19 pandemic, the data from support tickets reflected the SHSU Online Support Desk's "Top Five" areas in which the Online Support Desk assisted faculty and students. Here is a look at each of these areas.
1. Kaltura
Kaltura is a piece of software available within Blackboard for faculty or students to create video recordings of their computer screens, applications on their computer such as PowerPoint or Word, a recording of themselves speaking through a webcam, or any combination of these options.
Kaltura is mobile-compatible and ADA-compliant. Kaltura videos can be viewed from a wide variety of computers, internet browsers, tablets and even cell phones.
Many faculty members who were transitioning their courses to a remote format quickly adapted to utilize Kaltura to replace their face-to-face lectures. Kaltura allowed faculty to record these lectures on their available laptops, from the comfort and safety of their own homes.
Faculty also chose to set up assignments for students to record themselves to replace their group projects or class presentation assignments. Students seldom had technical issues viewing the content from Kaltura provided by faculty members or during the creation of their own videos.
2. Zoom
Zoom was utilized as the primary software for class meetings, student groups and office hours for most remote courses.
Faculty members and students utilized Zoom frequently, and overall, it was very successful. Questions the Online Support Desk received concerning Zoom were primarily about how to set up a session, how to record a session, or how to access the Zoom recordings after the session ended. There were very few technical issues associated with connecting to the Zoom sessions themselves. Many faculty members and students using Zoom had not previously used the software in the past; therefore, training provided by SHSU Online and IT@Sam became critical to ensure that everyone knew how to use the software successfully.
3. Blackboard Exams
Faculty members can create exams for students to take within Blackboard. There are many options available for deploying exams, question types, the use of multimedia, the ability to set time limits, ADA compliance, and options to allow students to have multiple attempts.
Many faculty members chose to move their scheduled exams into Blackboard during the remote transition. This allowed academic activity to continue within an online setting despite the lack of face-to-face course meetings.
The remote transition required many faculty members to adjust exam date availability or give students multiple attempts. The Online Support Desk was able to assist faculty in these course adjustments quickly and without any major issues.
4. Respondus Lockdown Browser/Monitor
Respondus Lockdown Browser (LDB) is a piece of software available in Blackboard for faculty to create proctored exams. These exams utilize all the options that normal Blackboard exams include, but add an additional layer of security to the exam. LDB forces the student taking the exam to do so in one sitting, without the ability to exit out of the exam or open any other software application from their computer. LDB also has an option to record the student taking the exam from their computer's webcam. This option is called Respondus Monitor. Due to the flexibility of LDB, there is also an option that faculty members can turn on to allow students to use an Apple iPad to take LDB exams.
Faculty who needed proctored exams in the past had already made regular use of LDB. However, many faculty members who made the transition to remote learning opted to use the exam proctoring options of LDB as well.
Faculty were assisted by their instructional designers, as well as the Online Support Desk, to set up course instructions for their students to use LDB. After students downloaded and installed the LDB software through its quick step-by-step installation, they could immediately begin their exams. With the minimal installation and system requirements of LDB, it was successfully utilized by students, even if they possessed computers more than five years old (which would typically present problems for other software).
5. Blackboard Assignments / Safe Assign
Faculty can create assignments for students to complete within Blackboard. There are many options available, and for the transition to remote learning, the flexibility of the different types of assignments allowed faculty members to continue their regularly-scheduled assignments and assessments with minimal disruption. The Online Support Desk helped faculty with questions around creating assignments, setting them up successfully, and deploying them to students.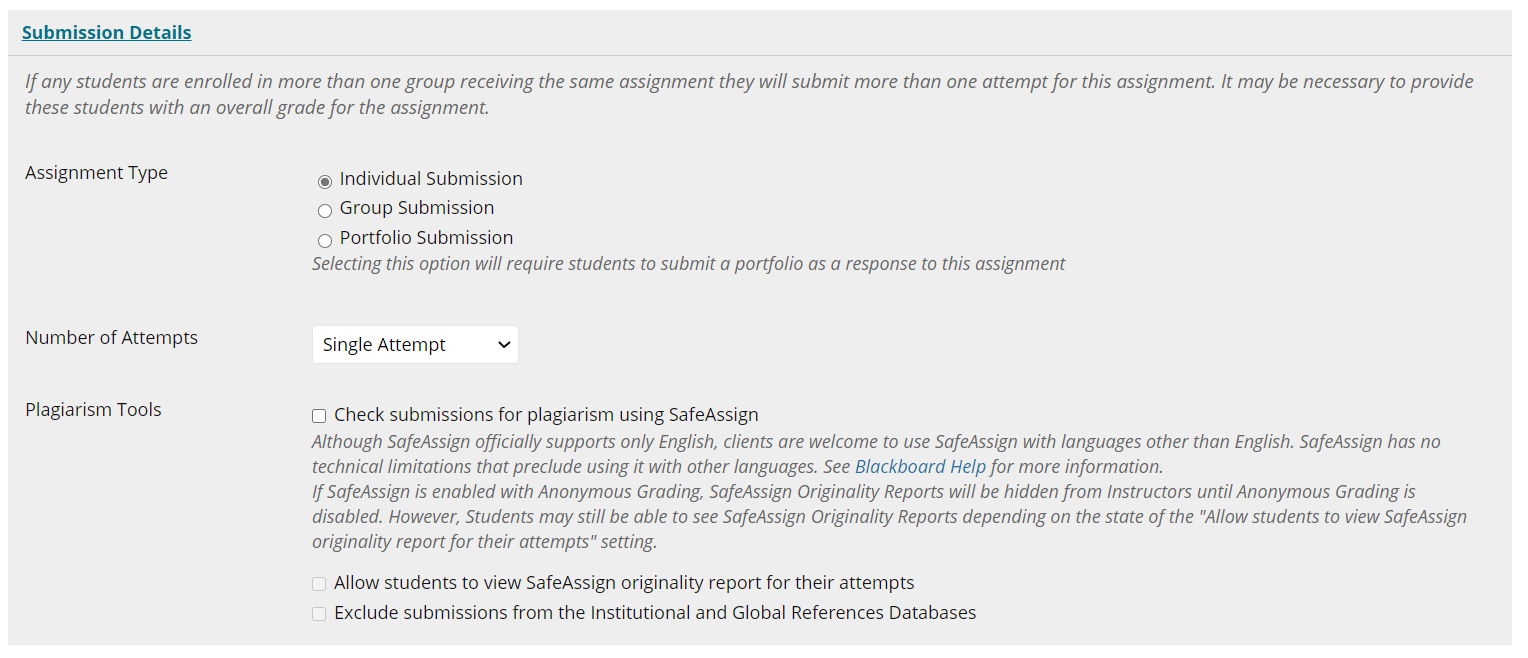 Additionally, Blackboard has a built-in plagiarism-detection option, "Safe Assign," for faculty members to use with assignments which call for students to submit written papers. This option for faculty allowed the collection of papers online and the ability to compare students' submissions against hundreds of thousands of other submissions and web pages online.
The Online Support Desk saw an increase in faculty adoption of Blackboard Assignments, especially towards the end of the academic semester.

We at the Online Support Desk are here for you. We are ready when you need us! Call or email us anytime at blackboard@shsu.edu or 936.294.2780.