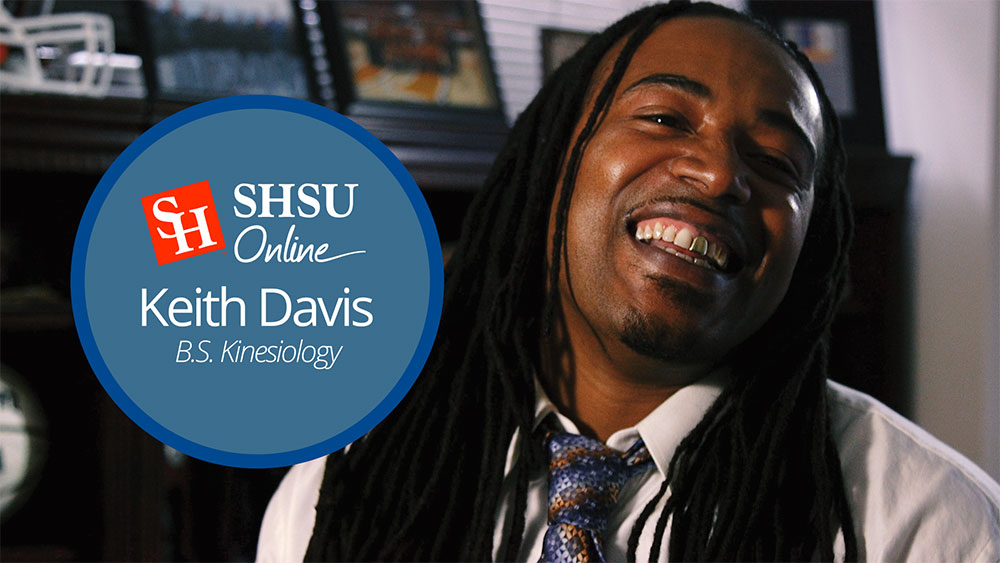 Patience... and determination. That's what recent graduate Keith Davis, who received his B.S. degree in kinesiology from Sam Houston State University in December 2018, has had going for him during a long drive toward earning that degree. Along the way - 17 years in all - Davis built on his experience as a Bearkat football player (he earned All-Southland and All-American honors playing for SHSU) and made it to the National Football League. While playing safety for the Dallas Cowboys, he survived gunshot wounds to the hip and elbow (sustained while picking up a friend at a night club).
Born in the small town of Italy, Texas, Davis was encouraged by his mother to follow his NFL dream, but also to go to college and complete his degree. Though his "detour" into NFL play delayed the process, he finished his degree program in Fall 2018... with the help of coursework available through SHSU Online.
Injuries from his football-playing years, as well as the gunshot wounds, had caused Davis to suffer nerve damage in one arm and one leg. This makes it difficult for him to sit for a long time in one position. But the online coursework allowed him to earn some of his credit hours in the comfort of his home while moving his body as needed to prevent or relieve pain.
As an article in the university's daily news series, Today@Sam, put it, the "same perseverance that led him to be introduced into the Sam Houston State Athletic Hall of Honor in 2014, also led to finishing his final class."
SHSU Online joins the rest of the Bearkat community in congratulating Keith Davis on completion of his hard-won kinesiology degree, and we are proud to have helped him earn that degree by providing a comfortable and convenient alternative to face-to-face coursework!
See the recent news story about Keith Davis at the Today@Sam website.
See a recent video from SHSU Marketing & Communications.