Online Class Meeting Best Practices (with Collaborate Ultra)
Keep the following best practices in mind when setting up your Collaborate session: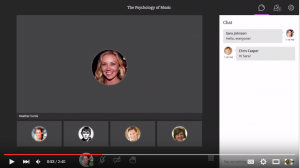 Send pre-session information that includes the agenda/objectives, how to access live stream, how to access recordings once the session is complete, and where to go for help should a tech issue arise: Call (936.294.2780).
When presenting a session, provide a slide with instructions, including how to communicate via chat, audio, and video, as well as how to test the audio settings.
Build community by creating a profile and encourage participants to do the same. Consider creating a biography page introducing yourself.
Think about these application specific best practices:
Moderators should be checking in with their Participants every 3 - 5 minutes and can do so by using various features and techniques. For instance, when you ask the Participants a question, wait at least 10 seconds for a response. If no response comes within 20 seconds, rephrase the question and wait an additional 10 seconds. The silence will encourage the Participants to engage.
What can you do to prepare students to use Collaborate Ultra? Consider linking to the blackboard.com documentation for students. Announce and start the session 15 minutes early and position this time as "trouble shooting and student orientation" to Collaborate.
Just as it is in a live classroom, interactivity is critical in a virtual classroom. Now you have a good handle on how to develop an online session, but remember, good teaching includes incorporating multiple learning styles and interactivity.