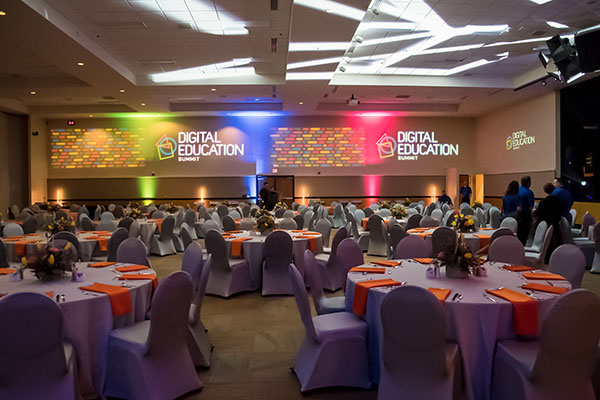 On January 25-26, 2018, SHSU Online will hold its annual Digital Education Summit at the Lowman Student Center on the SHSU campus. We are excited to announce three of our SHSU faculty presenters who will be featured during this annual event! Here's a "sneak peek" at their upcoming talks at the Summit:
Donggil Song will present a session titled, Student Interaction in a Learning Management System and a Conversational Agent System. The session will focus on promoting students' participation/interaction in online courses. This presentation is the result of a recent study of students' participation/interaction behaviors in a learning management system and a conversational agent system.
Paul Eaton's session, Using Slack and Hypothes.is in a Graduate Research Course, will examine the possibilities and limitations of increasing graduate student engagement and learning through Slack and Hypothes.is. These two tech tools are designed to increase student engagement and involvement.
Finally, Mark Klespis will present Here Be Dragons: An exploration in teaching a graduate mathematics class online for the first time. The session will cover how the MA program in Mathematics is transitioning to an online program. Dr. Klespis will address the questions, from personal experience, as to how he managed the transition of changing a face-to-face graduate mathematics class to digital format. He will also cover the support he received in developing the online graduate mathematics course.
There is still time to register for the Digital Education Summit, and we invite all faculty and technology experts to join us for this one-of-a-kind event on the SHSU campus! You can register for the event by filling out the simple form at the link below:
Schedule
Thursday, January 25th
11:30-1:30 p.m. Registration
11:30-1:00 p.m. Headshots
12:00-1:00 p.m. Complimentary Lunch
1:00-1:10 p.m. Conference Kick-Off with Bill Angrove
1:10-2:30 p.m. Keynote - Leonard Geddes
2:45-3:30 p.m. Breakout Session One
3:45-4:30 p.m. Breakout Session Two
4:30-6:30 p.m. Reception & Door Prizes
Friday, January 26th
7:30-9:00 a.m. Registration
7:30-9:00 a.m. Breakfast
7:30-9:00 a.m. Headshots
8:30-9:20 a.m. Q&A with Leonard Geddes
9:30-10:15 a.m. Breakout Session Three
10:25-11:10 a.m. Breakout Session Four
11:20-12:05 p.m. Breakout Session Five