A group of online education practitioners from North West University in South Africa visited Sam Houston State University for one week to explore how SHSU Online helps faculty and students in online education. The five visitors, who are e-entanethi ochwepheshe (Zulu language phrase for e-learning experts), arrived with questions about how to deliver services that could support blended learning.
The challenges faced by the group are many. Despite widespread urbanization, South Africa's technical infrastructure cannot support fully online courses or online programs. A blended approach to delivering ukufunda (learning) is currently the only recourse for offering education at a distance. With an estimated 40,000 blended learning abafundi (students), the e-learning experts sought to learn techniques for improving support.
"Part of the challenge for our South Africa peers is the lack of access to the internet. Some of the things we might take for granted, like access to the internet, is still not a reality for academic practitioners in other parts of the world," said Daniel Walker, Manager for the SHSU Online Support Desk. Daniel, as well as Mila Jackson, a Technical Analyst, shared their insights and lessons learned as a result of operating the SHSU Online Support Desk.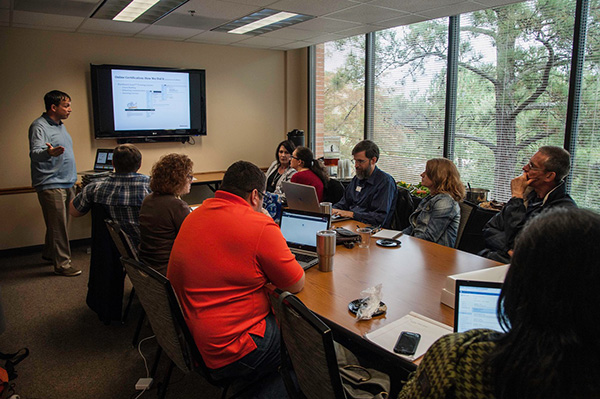 Rassie Louw, the Manager for the Teaching Learning Environment Development and Support team from North West University, commented, "This visit has changed us--we arrived as colleagues and departed as friends!"
North West University will send yet another group of e-learning practitioners in the Spring 2018 semester, as part of an ongoing effort to support the Memorandum of Understanding (MOU) between Sam Houston State University and North West University.
---
*"Collaboration" in the Zulu language -Ed.