The SHSU Online Digital Education Summit, presented March 9-10, 2017 at the Lowman Student Center on the SHSU campus, included numerous informative, unique breakout sessions throughout the two-day schedule. Here are some typical responses from people who attended the Summit breakout sessions.
From "The Artistry of Being an Educator: Develop a Culture of Innovation" (presented by Madelyn Kilgore):
"The most interesting idea to me was something I think about a lot – the importance of empowerment instead of just engagement, and moving beyond engagement to ownership of learning."
- Dr. Amy Smith, Associate Professor, English and Modern Languages, Lamar University
From "Open Education, Open Opportunities" (presented by Erin Cassidy):
"I found the Open Textbook Resources idea really intriguing… getting a glimpse of this kind of program, where you can get free textbooks for students, is really a good idea as it cuts down on education costs."
- Bridget Schabron, M.F.A. student in Creative Writing, SHSU
From "Getting Connected: Video Chat in an Online Class" (presented by Dr. Diane Dowdey):
"It's good to know which methods work and which don't when instructors are looking for advice about how to communicate with students. This information helps me when I need to advise an instructor on what they might do for their classes."
- Mathew Walpert, eLearning Systems Specialist, Blinn College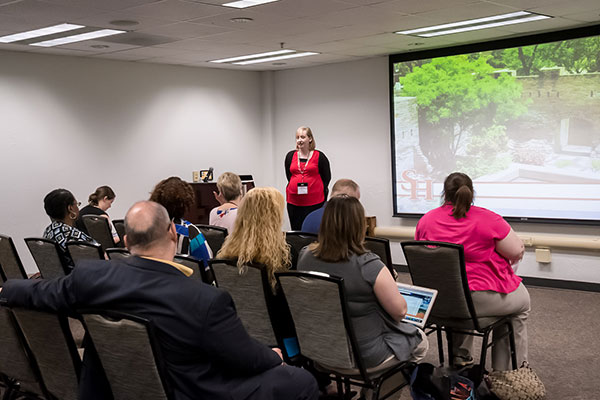 From "Virtual Groups - Simulated Discussions" (presented by Thomas Sosebee and Steven Koether):
"This session allowed me to see how I could use Blackboard Collaborate and recorded conversations to not only put students in groups to do good critical thinking, but also to change up the discussion. So instead of using text, they'd be using oral communication skills."
- Dr. Sally Roche, Sul Ross State University, Rio Grande College
From "Online Assignments That Promote Deep Thinking" (presented by Dr. Nancy Stockall):
"The presentation was very interesting to me, because in teaching online, I'm very concerned about making sure that my students are engaging with the materials in ways that will stay with them. Dr. Stockall's presentation ended with a little comedy video clip about how quickly we forget things, and she suggested to us that by using the tools in her presentation, students would think at a deeper level and would continue to remember the material long after they graduated."
- Dr. Jaime Duran, Assistant Professor, Department of Language, Literacy and Special Populations, SHSU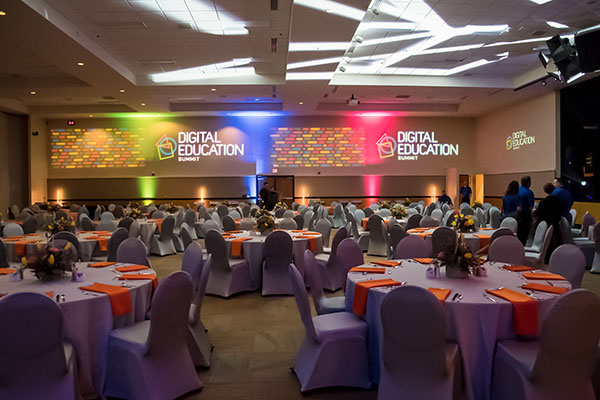 Presenters themselves had some feedback to share, including the following:
Mila Jackson (from "Online Exam Proctoring: How the SHSU Online Support Desk Partners With ProctorFree for Faculty and Student Success," presented by Daniel Walker, Harrison Turley, and Mila Jackson): "We had a fantastic experience presenting. Online proctoring has becoming increasingly popular, and breaking the misconceptions that come with online proctoring has become difficult. We were able to resolve a lot of questions and let everyone know about our partnership with proctor free and how it has made the online proctoring process easy, fast, and catered toward our faculty."
Madelyn Kilgore (from "The Artistry of Being an Educator: Develop a Culture of Innovation," presented by Madelyn Kilgore): "An innovator's mindset is the belief that abilities, intelligence, and talents are developed so they lead to the creation of new and better ideas; every student has multiple intelligences, and every teacher has multiple strategies they employ to reach learners. The message I was trying to convey is that in order to embrace the artistry of being an educator, one should develop a culture of innovation. There is a true artistry in the way that we teach, and the way that we learn. Educators should model learning, and continuously aim for ways to empower students to take ownership of their learning to help them develop way past their time in education."
Thomas Sosebee
(from "
Virtual Groups – Simulated Discussions," presented by Thomas Sosebee and Steven Koether
): "The attendees really seemed to enjoy the presentation, and several of them even stayed after to continue discussing the project with my co-presenter and I. There are options for online discussions, the method used by us focused on creating a simulated group discussion with a virtual group of students at SHSU Online."