One of the of the hallmarks of student satisfaction in any online or web-enhanced course is a good student-course relationship. If the student has a good experience interacting with the course structure and materials, they are more likely to report a higher level of satisfaction.
One way to increase the odds of a good student-course relationship is to be sure that when students check their academic progress, it is easy for them discover how they are doing in the course.
Blackboard students and instructors have dramatically different views of course grades. Instructors generally interact with student grades via the Grade Center, whereas students work with a custom My Grades tool that only shows them their own achievements. Students do not get a spreadsheet view of their grades. Instead, they see a list of graded items in whatever order the instructor happens to have them in Blackboard's Grade Center.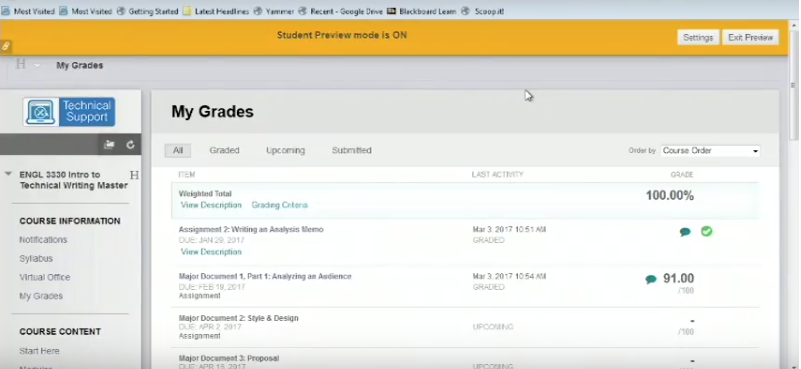 When adding assignments and activities during any given semester it is easy to just "set-and-forget" the Grade Center and forget about how students see their grades. The good news is that there are steps that any Blackboard instructor can take to ensure that the students' view of their academic progress is easy to understand and in the correct order.
See the SHSU Online eLearning Support Blog for a video that walks Blackboard instructors through the process of organizing the Grade Center using Grade Book Due Dates and Column Organization.