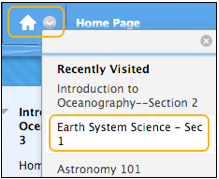 Faculty members may find themselves in the midst of working on a particular item in a Blackboard course, only to realize that they should probably make the change on the same or similar item in another one of their courses.
At such points, you may think you need to exit the current course, go back to the My Courses module on Blackboard's main page, scroll to find the course you were thinking of, and then access it. But there is a faster way to jump from one course to another in Blackboard - the Course-to-Course Navigation Menu.
For full details and a video explaining this useful Blackboard menu, see the SHSU Online eLearning Support Blog.